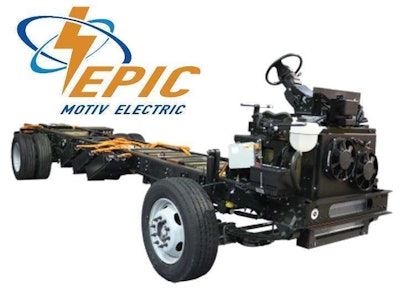 Motiv Power Systems announced today that it has received an executive order from the California Air Resources Board certifying its Electric Powered Intelligent Chassis (EPIC) family for use in Class 4-7 commercial vehicle applications.
Motiv has now become the first Tier 1 supplier of a CARB-certified all-electric stripped chassis. Unlike diesel and gasoline powered stripped chassis, EPIC chassis are certified for the entirety of their service life, requiring no further emissions testing.
With CARB certification, finished vehicles built on the all-electric EPIC chassis are also eligible for both state and federal grant and subsidy sources, netting savings of around $100,000 per vehicle in both California and New York.
"Prior to the introduction of Motiv's EPIC chassis, final stage vehicle builders, which comprise the majority of the medium-duty fleet market, couldn't transition to electric without going through an arduous certification process of their own. Additionally, reconfiguring a previously approved application required going through a re-certification process," explained Urvi Nagrani, director of business development for Motiv. "With this CARB certification of the entire EPIC chassis family, Motiv is taking that regulatory burden off of builders and owning it ourselves."
As compared to both gasoline and diesel, the new EPIC chassis family reduces operating costs by 85 percent and maintenance expenses by 66 percent while providing comparable hill climbing capability and performance. The EPIC chassis' use of passenger car batteries ensures long service life and inexpensive replacement costs while over-the-air software updates deliver new features and functionality.
"Because California emissions regulations are the most stringent nationwide, they are implemented by twenty other states. This means vehicles built on the EPIC chassis can be deployed anywhere in the U.S., a major plus for fleet programs operating nationally," said Jim Castelaz, CEO of Motiv Power Systems. "This CARB certification means manufacturers of commercial truck and bus bodies can easily drop EPIC Chassis onto their existing production lines in order to offer all-electric versions of their existing vehicles."
Motiv reports that unique technology integrated into the EPIC all-electric chassis is already in use in Fortune 50 fleet deployments nationwide, having already logged more than 350,000 miles on the road.