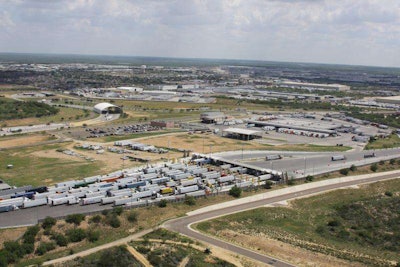 Two trucks attempting to enter the U.S. recently from Mexico were not only hauling tile and cement but also nearly a ton of cocaine and marijuana.
U.S. Customs and Border Protection (CBP) reports that its officers discovered 1,666 pounds of marijuana Friday inside boxes that a Mexican driver had presented as a shipment of Saltillo tile at the cargo facility in Presido, Texas.
CBP officers had directed the truck to the cargo dock for an intensive inspection where a canine alerted to the drug. After unloading 16 pallets, officers found 128 boxes with marijuana, each containing a 13-pound bundle of the drug. The tile, truck and flatbed trailer were seized. No arrests were made and the investigation continues.
Earlier in the week at the World Trade Bridge, a rig with a flatbed of cement bricks from Mexico was selected for a secondary inspection where an imaging system led officers to 120 packages containing 320 pounds of cocaine. The drug has an estimated street value of $2,471,120.
The case was turned over to U.S. Immigration and Customs Enforcement-Homeland Security Investigations (ICE-HSI) special agents for further investigation.