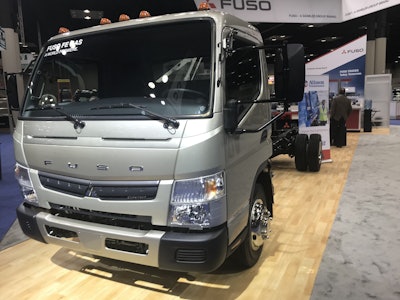 Fuso on Tuesday at the Work Truck Show in Indianapolis debuted its new gasoline-powered FE Series cab over truck.
Initially available in the Class 4 FE 140 and FE 160, Fuso Vice President of Sales Operations Bill Lyons says the gasoline General Motors 6-liter V8 engine features up to 297 horsepower and 361 lb.-ft. of torque. It is matched to an Allison 1000 automatic transmission.
An FE 180 Class 5 truck will be available early next year and will become the only gas-powered Class 5 truck available in the U.S.
All three trucks will feature PTO capability future models can be equipped to use compressed natural gas (CNG) or liquefied petroleum gas (LPG).
The Allison 1000 transmission uses the company's Fuel Sense 2.0 management software. Its DynActive platform continuously refines shifts through a learning algorithm that balances performance and fuel economy specific to the operator's duty cycle.
Otto Schmid, Fuso's director of product management, says the transmission yields a 2 to 6 percent improvement in fuel economy and also provides a "neutral at stop feature" that further reduces fuel consumption.
Otto Schmid, Fuso's director of product management, says the company will offer a 40 gallon in-frame fuel tank, giving the truck a longer range than competitors in the market. Lyons estimates the Class 4 truck range at 300 to 400 miles.
FE gas trucks will also usher in a new interior cab design. The driver's seat bolstering and been improved to provide better support and comfort. The seat cushion has also been extended for added durability and high-visibility red seatbelts have been added.
The instrument cluster colors have been revised to improve visibility and cabin lights have been converted to LED. A new driver-side overhead console adds storage space as does a new flor tray and sun visor pocket.
A new black-on-black interior is also available, marked with silver trim accents throughout the cab. Each of the design improvements will transition to the company's diesel trucks.