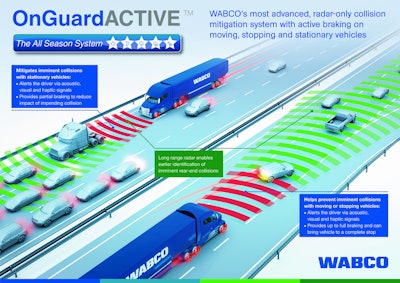 Peterbilt is adding WABCO's OnGuardACTIVE safety system to its medium duty Models 348, 337 and 220, the company announced Tuesday.
OnGuardACTIVE is an advanced driver assistance system that provides the driver with acoustic, visual and haptic alerts in potentially dangerous situations. The system will also engage the braking system to prevent a collision with a moving or stationary vehicle in the event the driver does not respond soon enough. The system is always on for vehicle speeds above 15mph even when cruise control is disabled.
The adaptive cruise control function will help reduce driver fatigue in congested traffic and make cruise control a more useful feature by automatically adjusting vehicle speed relative to the vehicle ahead in order to maintain a pre-set following distance.
Peterbilt Chief Engineer Scott Newhouse says adding WABCO's OnGuardACTIVE to the company's medium duty lineup "is a big step towards giving those customers an option to increase safety."
The safety system will be available for order on Peterbilt Models 337 and 348 beginning March 2018. The Model 220 availability is scheduled by mid-year 2018.