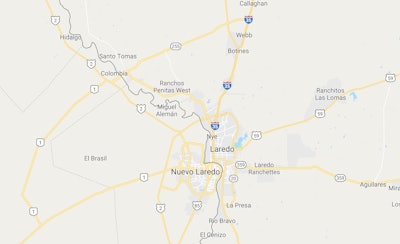 A box truck carrying 17 illegal immigrants was discovered recently at a U.S. border checkpoint on Interstate 35 near Laredo, Texas.
U.S. Customs and Border Protection reports that all of the immigrants were in good health and that the driver, a U.S. citizen, was arrested on human trafficking charges.
"These criminal organizations view these individuals as mere commodities without regard for their safety," said Laredo Sector Assistant Chief Patrol Agent Gabriel Acosta. "The blatant disregard for human life will not be tolerated. We will continue to work with our law enforcement partners to disrupt and dismantle these organizations and prosecute those responsible."
On Friday the truck stopped at the U.S. Border Patrol Checkpoint on I-35 where agents became concerned about the driver's immigration status and called for a secondary inspection. A Border Patrol canine alerted to the presence of people inside the truck, all of whom hailed from Mexico and Brazil.
In a press release, the Laredo Sector Border Patrol reports that it "will continue to warn against the dangers of people crossing illegally into the United States through dangerous environmental conditions. Our Border Safety Initiative (BSI) is a humanitarian, bi-national strategy designed to reduce illegal alien deaths, educate and inform potential illegal aliens of the dangers and hazards of crossing the border illegally, and to respond to those who are in life-threatening situations."
Last month, the California Highway Patrol stopped a brown delivery van in Boulevard, Calif. near San Diego that had no license plates and had been swerving on Old Highway 80.
The vehicle, which resembled a UPS van, contained 77 illegal immigrants, five of whom were children, standing shoulder-to-shoulder and sweating profusely in the cargo area. The driver, a U.S. citizen who was arrested on trafficking charges, told investigators that he had agreed to smuggle the people at $100 per person.
Neither the van nor the driver were affiliated with UPS, according to The San Diego Union Tribune.