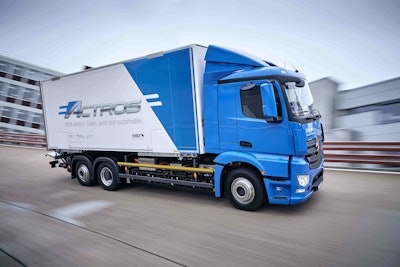 Mercedes-Benz Trucks announced today that its all-electric eActros straight truck will enter real-world testing in Germany and Switzerland.
Ten cab-over trucks, which offer a range of up to 125 miles, will be distributed among 10 fleets that normally use diesel-powered trucks to deliver groceries, building supplies and raw materials.
Two variants with a gross vehicle weight of roughly 20 to 27.6 tons will be tested for 12 months in a variety of routes and applications, including refrigerated transport.
Mercedes Trucks views the fleet testing as an important opportunity to address key concerns of electric truck use, namely range, battery cost and charging infrastructure.
"Daimler Trucks is synonymous with innovation leadership, allied to a realistic and pragmatic attitude," said Martin Daum, the Daimler AG Board Member responsible for Daimler Trucks and Buses. "This is particularly true when it comes to electric mobility. We now want to work together with our customers to move swiftly forward with the development of our Mercedes-Benz eActros to the point where it becomes a viable proposition in tough everyday operations, both technically and commercially.
"We are beginning this process by creating an innovation fleet and will be supporting its testing in the day-to day logistics environment of our customers," Daum continued. "This will enable us to establish just what remains to be done, in terms of technical matters, infrastructure and service, to make our Mercedes-Benz eActros competitive."
The drive system contains two electric motors located close to the rear-axle wheel hubs. These three-phase asynchronous motors are liquid-cooled and operate with a nominal voltage of 400 volts. They generate an output of 125 kW each, with maximum torque of 358 lb. ft. of torque each. Gearing ratios increase the torque and place it on par with that of a diesel truck.
The 125-mile range is provided by two lithium-ion batteries with an output of 240 kWh. The batteries are housed in eleven packs: three of these are located in the frame area, the other eight are underneath (see illustration below). For safety reasons, the battery packs are protected by steel housings. In the event of a collision, the mountings give way and deform, so diverting the energy past the batteries without damaging them.
High-voltage batteries do not just supply energy to the drive system, but to the vehicle as a whole. Ancillary components such as the air compressor for the braking system, the power steering pump, the compressor for the cab air-conditioning system and, where relevant, the refrigerated body, are also all electrically powered.
Discharged batteries can be fully recharged within three to eleven hours, assuming a realistic charging capacity of 20 to 80 kW from a mobile charging device at a fleet depot. The charging standard used is the Combined Charging System, CCS. The LV on-board network, comprised of two conventional 12-volt batteries, is charged from the high-voltage batteries via a DC-DC converter. This ensures that all relevant vehicle functions such as lights, indicators, brakes, air suspension systems and cab systems remain operational in the event of the high-voltage network failing or being switched off. The high-voltage network can only be activated if both LV (low-voltage) batteries are charged.
Mercedes reports that the "maximum permissible axle load stands at the usual 11.5 tonnes (12.68 tons)."
German companies participating in the fleet test include Dachser, Edeka, Hermes, Kraftverkehr Nagel, Ludwig Meyer, pfenning logistics, TBS Rhein-Neckar and Rigterink. Swiss companies are Camion Transport and Migros.
The customer innovation fleet will be on the road until at least mid 2020. Its aim is to establish the energy requirements for a series of specific application scenarios as well as the economic efficiency of the electric trucks, and to compare the environmental performance of the electric trucks with that of diesel trucks in a full Life Cycle Assessment. The findings of this research work will find their way back into the vehicles in the form of on-going optimization measures. The results will be published, giving potential users the opportunity to optimize their route planning or to develop new business models to meet their needs.
The pilot customers will be testing the vehicles in real-life operations for twelve months, after which the trucks will be going out to a second round of customers for a further twelve months. "This will enable us to satisfy the many requests we have had from customers and to gain even more insight," said Stefan Buchner, head of Mercedes Trucks. "Our aim is to achieve series-production and market maturity for a range of economically competitive electric trucks for use in heavy-duty transport operations with effect from 2021."
Mercedes has been active in producing electric drivetrain technology for trucks and vans. Mitsubishi Fuso, a subsidiary of Mercedes, launched the all-electric eCanter cab-over last fall. The eVito from Mercedes-Benz has also been available to order since November 2017 and will be going out to customers from the second half of this year. Next in line are the all-electric Citaro city bus and the eSprinter.