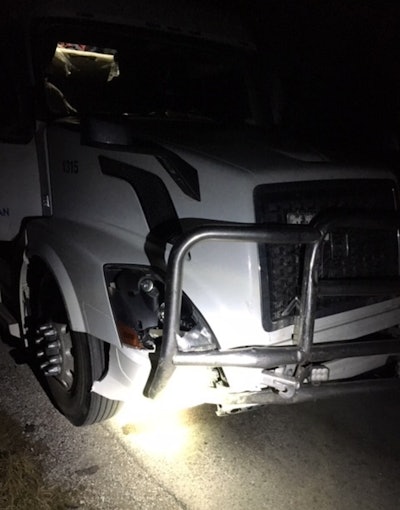 You never know who else is driving nearby.
A Canadian driver who police say ran his tractor-trailer into the back of a mini-van in Indiana and then kept on driving was arrested a short time later thanks to an off-duty officer.
Indiana State Police say 28-year-old Harjot Singh was driving a 2016 Volvo semi with a trailer around 11:30 p.m. on Feb. 3 when he struck the rear of 2008 Chrysler minivan that had slowed down near an exit on eastbound I-70 in Terre Haute.
The collision injured the van's 18-year-old driver, Gabriella Waltz, who was hospitalized with head, neck and internal injuries. Police report that Singh kept on driving after striking the van and that an off-duty, out-of-state police officer followed him and reported his location to authorities.
Minutes later, near the 35 mile marker on eastbound I-70 in Putnam County, Singh was arrested for Leaving the Scene of a Personal Injury Crash. Charges are pending against Waltz who police say tested positive for controlled substances. Two passengers riding with Waltz, a 21-year-old and a 16-year-old, were not injured nor cited.
Singh was driving for Blue Ocean Freight of Ontario, Canada.