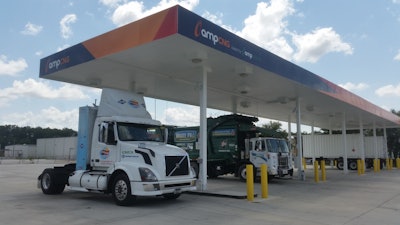 Though a bill introduced recently in California is calling for a ban on internal combustion engines, renewable natural gas producer Amp Americas is feeling confident about RNG in that state and elsewhere.
In fact, to help meet increasing demand from large fleets like UPS, Amp America's subsidiary, Renewable Dairy Fuels, announced this week that construction is underway in Indiana on the nation's largest on-farm anaerobic digester-to-vehicle fuel operation.
Amp Americas CEO Grant Zimmerman pointed out late last year that despite a growing interest in electric powertrains, especially in highly populated states like California, the demand for RNG among Class 8 fleets is growing, namely because internal combustion engines are still kings of the road in terms of heavy-duty capability. The power of an IC engine paired up with RNG's low emissions is hard to beat as electric slowly eases into the highly demanding Class 8 segment. Amp reports that its RNG offers more than a 100 percent reduction in emissions compared to conventional diesel because of an extremely low carbon index score. (More information on CI scores is found below).
"California needs RNG to meet its air and climate goals," Zimmerman told HWT. "Near-term and longer-term they'll need both electric and RNG in trucks. We hope that policy doesn't shift away resources from market-ready, cost-effective near-zero emission RNG technology, costing people who breathe dirty air now for the sake of a far-off, expensive promise.
"Over the long term RNG is a key to solving emissions from waste and industrial processes until we figure out how to eliminate waste entirely," Zimmerman continued. "RNG can be used to generate hydrogen and electricity in a very long-term future with fewer combustion engines."
In an interview last May following the announcement of their hydrogen fuel-cell delivery vehicle, UPS told HWT that the most ideal fueling scenario for their fuel-cell vehicles would be to extract hydrogen from RNG.
At this point, Zimmerman said Amp has "no immediate plans to use it (RNG) for hydrogen but believe that it may be a key market of the future."
RNG could prove to be a promising source for hydrogen in a dairy-rich state like California where state officials have continued to pursue tougher emissions laws. California Assembly Bill 1745, also known as the Clean Cars 2040 Act, was introduced last month. It seeks to boost sales for zero emissions vehicles by eliminating sales of new vehicles with internal combustion engines by 2040. The ban would not apply to commercial vehicles weighing more than 10,000 pounds nor would it effect vehicles with internal combustion engines purchased before 2040.
California Governor Jerry Brown also recently announced plans backed by executive orders to have 5 million EVs on the road there by 2030, a vast increase over his prior goal of 1.5 million emission-free vehicles by 2025. Brown is also aiming for 250,000 EV charging stations and 200 hydrogen stations by 2030. The governor has said that he wants to follow China, Spain and other nations and ban IC engines all-together, including diesel engines, which leaves some industry insiders concerned that if Bill 1745 were to pass that it may lead to an eventual ban on all IC engines in the Golden State, regardless of vehicle class size.
California is no stranger to Amp-produced RNG. Amp received the first dairy waste-to-vehicle fuel pathway certified by California's Air Resources Board (CARB) for its first RNG project at Fair Oaks Farms in northwest Indiana. The project was also awarded a Carbon Intensity (CI) score of -254.94 gCO2e/MJ, the lowest ever issued by CARB. The CI score for electric is 35, conventional natural gas is 79 and conventional diesel is 98. Amp's RNG score is so low because it's capturing methane that otherwise would be released into the atmosphere, which CARB considers to be a highly destructive greenhouse gas.
Renewable Dairy Fuels' new facility in Jasper County, Indiana will be 50 percent larger than RDF's operation at Fair Oaks Farms and will be operational this summer. Every day, three digesters located at three dairy farms will convert 950 tons of dairy waste from 16,000 head of milking cows into 100 percent renewable transportation fuel. The RNG will then be injected into the NIPSCO pipeline. Each of the digesters is a DVO, Inc. designed and built Mixed Plug Flow digester.
"Transportation is now the largest source of greenhouse gases in the U.S., and a major source of smog-causing pollution. It is more important than ever to drive further adoption of clean and efficient domestic RNG within the trucking industry," said Zimmerman. "There isn't enough RNG being produced to meet customer demand. Our new project will help make strong headway toward closing the supply gap."