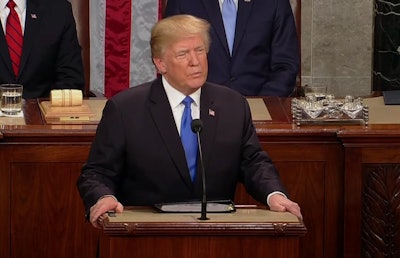 During his first State of the Union address tonight, President Trump recognized Fiat Chrysler, Toyota and Mazda for their recent decisions to build vehicles in the U.S.
Trump mentioned the three automakers after citing his administration's business-related accomplishments over the past year, including cutting the business tax rate from 35 to 21 percent, eliminating regulations and halting government mandates.
"In Detroit, I halted government mandates that crippled America's autoworkers, so we can get the Motor City revving its engines once again," Trump said during a joint session of Congress.
"Many car companies are now building and expanding plants in the United States, something we have not seen for decades," Trump continued. "Chrysler is moving a major plant from Mexico to Michigan; Toyota and Mazda are opening up a plant in Alabama. Soon, plants will be opening up all over the country. This is all news Americans are unaccustomed to hearing. For many years, companies and jobs were only leaving us, but now they are coming back."
FCA US announced earlier this month its plans to invest $1 billion in manufacturing plants in Michigan and Ohio, which will pave the way for its new Jeep pickup and bring back heavy-duty truck production from Mexico. The investment means the addition of 2,000 new jobs in the U.S.
In total, FCA US has committed investments of more than $9.6 billion in its U.S. manufacturing facilities and created 25,000 new jobs to date since 2009.
Toyota and Mazda announced two weeks ago their joint venture to build a $1.6 billion manufacturing plant in Huntsville, Ala. which will provide around 4,000 jobs. Toyota plans on building the Corolla there while Mazda will be producing a crossover SUV new to the North American market.
Regarding other economic gains, Trump noted that 2.4 million new jobs have been added since he took office a year ago, with 200,000 of those in manufacturing. He pointed out that unemployment claims have hit a 45-year low as the stock market continues to enjoy record gains.
"Small business confidence is at an all-time high. The stock market has smashed one record after another, gaining $8 trillion in value," Trump said. "That is great news for Americans' 401k, retirement, pension, and college savings accounts."
Trump also called on Congress to create an infrastructure bill that will reduce project approval wait times and generate at least $1.5 trillion.
"Every federal dollar should be leveraged by partnering with state and local governments and, where appropriate, tapping into private sector investment to permanently fix the infrastructure deficit," Trump said.
"Any bill must also streamline the permitting and approval process, getting it down to no more than two years, and perhaps even one," Trump continued.
"Together, we can reclaim our building heritage. We will build gleaming new roads, bridges, highways, railways, and waterways across our land. And we will do it with American heart, American hands, and American grit."