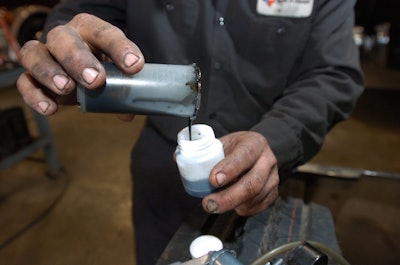 Engine oil drains should be extended gradually, driven by the results of oil samples taken at regular intervals. Brian Humphrey, OEM technical liaison for Petro-Canada Lubricants, says this ensures that a trend can be identified, which is used to improve the performance and efficiency of the equipment.
"Oil analysis programs typically involve three basic steps," he says. "The last stage, interpreting oil analysis results, is when technical advisers take stock, evaluate the results and provide recommendations on whether it is possible to extend oil drain intervals."
Step 1: Take a representative sample. Humphrey says this is the most important step in the process because improper sampling can lead to inaccurate interpretation of the results, which can lead to potential equipmentdamage or failure.
"A clean, dry container suitable for holding used oil should be used," he says. "A label must be affixed to the container with all the necessary information for the lab to put into their database (fluid name, equipment type, hours and miles of operation … etc).
When taking a sample, Humphrey says the sampling point should be wiped clean and a small amount of oil should be flushed first to ensure no foreign contamination makes its way into the bottle.
Step 2: Send to a qualified used oil analysis laboratory. Once the sample has been taken, it should be sent as soon as possible to an oil analysis lab certified to perform testing. In some cases, Humphrey says delays can mean the difference between being able to diagnose and correct a condition and losing a piece of equipment due to failure.
"The lab will test the oil using standard test regimes, providing accurate results and diagnosis in a report that can be sent by email or viewed online," he says.
Step 3: Interpret used oil analysis results. While results will often be sent by email if requested, Humphrey says many oil analysis labs also supply online software for storing, trending and assisting in interpreting the oil sample results.
"To interpret the results, it is necessary to have guidelines on what levels are normal for the particular machinery being tested and how it operates," he adds. "Looking at the trends over time for each parameter can offer more information than absolute single values."