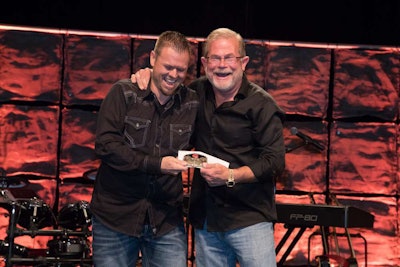 With $225,000 in cash and prizes, you could safely say that Christmas came a little early for the winners of the 2017 Rush Truck Centers Tech Skills Rodeo.
Rush Enterprises CEO Rusty Rush played the role of Santa, so to speak, handing out checks and prizes 40 times from a stage within a large conference room in the Grand Hyatt in San Antonio.
"It's so special for me to be able to come here for the 12th year," Rush told a room filled with about 800 people.
Rush heaped plenty of praise on his employees who work at Rush Truck Centers across the country.
"My heart and my connection to you is there, so I thank you from the bottom of my heart because you have made the organization, you make your families and we make so many other families better because of our commitment to making it happen," said Rush who runs the largest commercial vehicle dealership network in the U.S.
NASCAR driver Clint Bowyer, who's sponsored by Rush Truck Centers, joined Rush later on stage to announce Overall Grand Champion Justin Euler. Bowyer is featured in the first photo below alongside Euler (in the middle) and Rush (on the right).
We'll follow-up tomorrow with some interviews of the winners. In the meantime, here's the list of winning technicians, parts specialists and sales personnel. More pictures are posted below.
Overall Grand Champion
Justin Euler, Rush Truck Center – St. Peters, Total Winnings $18,000
Grand Champions
Aftermarket Sales: Tony Abbott, Rush Truck Center – Haines City, Total Winnings $7500
Parts: Michael Lyles, Rush Truck Center – Phoenix, Total Winnings $11000
Medium-Duty: Justin Euler, Rush Truck Center – St. Peters
Heavy-Duty: Erick Lincoln, Rush Truck Center – Albuquerque
Reserve Grand Champions
Aftermarket Sales: Gary Gates, Rush Truck Center – Houston, Total Winnings: $4500
Parts: David Zainfeld, Rush Truck Center – Houston, Total Winnings $9,000
Medium-Duty: Travis Graham, Rush Truck Center – Orlando, Total Winnings $9500
Heavy-Duty: Jason Swann, Rush Truck Center – Dallas, Total Winnings $10,250
Heavy Duty
Navistar
3RD place: Andrew Frieling, Rush Truck Center – Joliet, $3,000
2nd place: Maciej Gal, Rush Truck Center – Chicago, $4400
1st place: Dylan Moser, Rush Truck Center – Richmond, $6750
Vocational
1st place: Carl Trevino, Custom Vehicle Solutions, $5800
2nd place: Travis Webster, Rush Truck Center – Houston Medium-Duty, $4400
PACCAR MX
1st place: Glenn Boothe, Rush Truck Center – Nashville, $6750
3rd place: Eduardo Gutierrez, Rush Truck Center – Phoenix, $4400
2nd place: Johnny Mendez, Rush Truck Center – San Antonio, $3000
Cummins
3rd place: Wesley Appleton, Rush Truck Center – Odessa, $3000
1st: Michael Jones, Rush Truck Center – Tucson, $6750
2nd: Erick Lincoln, Rush Truck Center – Albuquerque, $4400
Alternative Fuels
1st: Matt Chilson Rush Truck Center – Houston Northwest, $5800
2nd: Gonzalo Uribe, Rush Truck Center – Fontana Vocational Services, $4400
Eaton
2nd: Sylvester Chandler, Rush Truck Center – Dallas, $4400
3rd: Peter Dezwart, Rush Truck Center – Doraville, $3000
1st: Jason Swann, Rush Truck Center – Dallas, $6750
Medium-Duty
Bus
1st: Derrick Kollin, Rush Truck Center – Cincinnati, $4400
2nd: Barry Thompson, Rush Bus Center – Dallas $5800
Hino
1st: Steven Brain, Rush Truck Center – Dallas Medium-Duty, $6000
2nd: Billy Stanley, Rush Truck Center – Houston, $4400
International
1st: Justin Euler, Rush Truck Center – St. Peters
2nd: Tom Hamilton, Rush Truck Center – Smyrna, $4400
Isuzu
1st: Mark Smith, Rush Truck Center – Doraville, $6000
2nd: Kory Sangster, Rush Truck Center – Dallas Light- and Medium-Duty, $4400
Peterbilt
2nd: Louis Fontano, Rush Truck Center – Fontana, $4400
1st: Travis Graham, Rush Truck Center – Orlando, $6000
Parts Finalists (representing all Parts categories)
1st Ford: Timothy Howard, Rush Truck Center – Las Vegas
1st Peterbilt: Michael Lyles, Rush Truck Center – Phoenix
1st International: Tom Murray, Rush Truck Center – Gary
1st Isuzu: John O'Brien, Rush Truck Center – Orlando South
1st Hino: David Zainfeld, Rush Truck Center – Houston