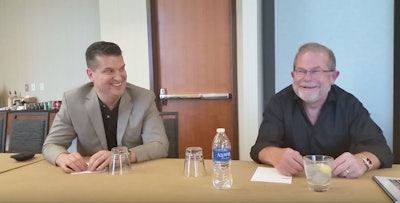 When the time comes, Rusty Rush, head of the nation's largest truck dealership network, Rush Truck Centers, will be willing to add bays to his dealerships to accommodate electric trucks, but at this point, like so many other industry leaders, he's carefully watching as battery-powered, commercial vehicles slowly ease into a market dominated by diesel.
So far, Rush is convinced that electric vehicles will be more at home in the medium-duty segment.
"Electric…no question that it's going to be in the space," Rush explained during a press event today at the Rush Truck Centers Tech Skills Rodeo in San Antonio. "Now, where does it fall in? How does it fit? My opinion—right, wrong or indifferent—it's more on the medium duty…city delivery, local P&D. That type of stuff."
Rush Truck Centers COO Michael McRoberts, who also attended the conference, recognizes the attributes of electric powertrains, but also sees the technology going to work in a non-truckload capacity.
"The true answer is, we really don't know," McRoberts said. "But I would tell you that there are less moving parts in an electric motor than a diesel engine. How disruptive that will be…it's probably not going to be in the truck load space anytime soon. It's going to be last-mile stuff, and even then, it's going to be a (small) share."
Tesla's recent push into the highly competitive Class 8 segment with its recently revealed all-electric Semi has Rush concerned. While the electric Chanje panel van has the nationwide backing of Ryder Systems, Tesla so far has not announced a heavy-weight partner that's willing to distribute and service its heavy-duty haulers.
"I'm not sure I buy the model of no distribution, no service centers—none of that to make it work. It may work on the consumer side of cars, but I don't think on the commercial side it fits," Rush said. "I do believe that when we step back 10 years from now or whatever time-frame you want to put on it, all of it will be OEM offerings: you'll have diesel offerings, natural gas offerings, you'll have electric offerings driven by market segments as much as anything else—driven by what job they're trying to perform from a commercial perspective.
Rush continued, "I have a hard time in the next 10 or 15 years really seeing it on the TL (truck load), the over-the-road, because there's just a lot of things on my mind, whether it's infrastructure, whether it's payload—there are a lot of things involved that I think are headwinds, but at the same time, it will be a part of offerings that we will learn how to deal with as dealers."
The half-hour meeting can be viewed below (apologies in advance for my sloppy camera work). Some highlights include:
The expanding Rush Truck Tech Skills Rodeo and its positive impact on technicians and the company as a whole
Impact of the economy on the trucking industry
The tech shortage and some ways Rush is addressing it
A look forward to 2018
A look back on 2017
Domestic energy exploration and its impact on the truck market
Banning internal combustion engines in California? Not likely for Class 8 and not likely anytime soon
.