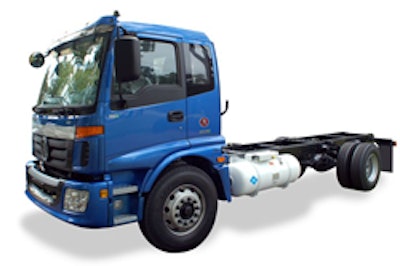 Alkane Truck Company has signed a Memorandum of Understanding with evLaboratory Inc., to integrate evLabs' powertrain and battery management system with Alkane's OEM alternative fuel truck chassis.
The first model to market will be a new Class 6 – up to 26,000 GVWR – all-electric delivery truck for inner-city commerce. The evLabs' initial Class 6 all-electric model is rated at 325HP and 480 lbs-ft giving it superior power and torque compared to other all-electric options.
Subsequent launches of Class 4 thru Class 7 all-electric truck models are planned.
evLabs' technology is a universal electric drivetrain system using a sequence of electric motors that can range from 100 to 700 hp with corresponding high levels of torque. The system consists of an electric drivetrain, a controller, a battery management system and a battery pack of fully recyclable lithium batteries.
"Demand for Zero Emission Vehicles and Low NOx engines will see dramatic growth in the years to come and significant investment incentives are being offered to accelerate fleet transition from fossil fuel to zero and low emission transportation," says Robert Smith, Alkane's founder and chief executive officer. "For example, California has approved clean-air incentive programs that provide fleet vouchers of $90,000 to $100,000 per truck for Class 6 ZEV trucks coming to market in 2018."
In addition, both parties say they have agreed to provide evLabs the opportunity to become the Alkane Logistics Manager and Certified Assembler of its new product line of electric trucks.