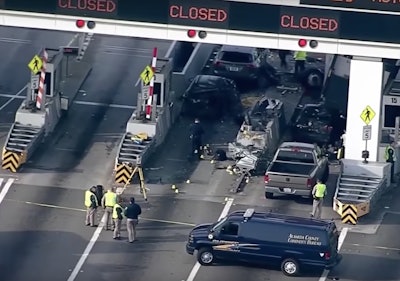 A box truck slammed into a toll booth on the San Francisco-Oakland Bay Bridge Saturday killing the toll worker inside and injuring five others.
Police do not believe the driver of the Monarch rental truck, 32-year-old Daniel Berk, intentionally crashed into the booth. However, Berk, who was hospitalized with major injuries, was arrested on suspicion of DUI and also faces a manslaughter charge.
Forty-six year old Caltrans Toll Collector Si Si Han leaves behind a husband and 10-year-old daughter.
Berk had collided with other vehicles before slamming into Han's booth. At least five motorists, not including Berk, were hospitalized with minor to moderate injuries. Berk had been delivering concert equipment at the time of the 5:10 a.m. crash, according to nbcbayarea.com.
The rental truck, a crash barrier and toll booth were all destroyed on impact. Berk was thrown from the vehicle and was hospitalized with severe injuries.
California Governor Jerry Brown issued statement on behalf of he and his wife, Anne, and ordered flags at half-staff.
"Anne and I are deeply saddened to learn of the loss of Caltrans Toll Collector Si Si Han, who died today while serving the traveling public," Brown said.
Six toll booths and two lanes on I-80 were shut-down by the California Highway Patrol and additional congestion is expected in the days ahead as work is done to replace the booth and repair damages.