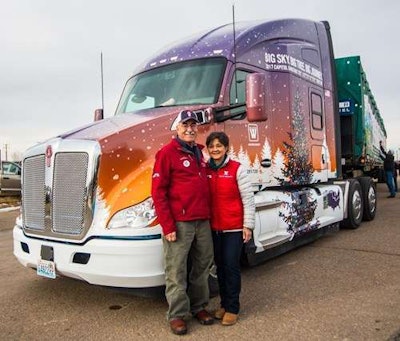 No doubt, loading a Christmas tree in the back of a pickup and getting it home is a very important mission.
Loading and delivering the nation's Christmas tree for display at the U.S. Capitol is the job of a lifetime.
This year, owner-operator Larry Spiekermeier of Whitewood Transport was the lucky driver chosen to transport the 2017 U.S. Capitol Christmas Tree. His wife, Mary Ann (shown above next to Spiekermeier) made part of the journey with him.
Spiekermeier, who drove a special Kenworth T680 Advantage adorned with graphics of Christmas trees, wrote about his 3,500-mile journey for foxnews.com. The opinion piece made the home page of foxnews.com earlier today.
"I'm one of 3.5 million professional truck drivers on America's roads working to safely deliver the goods that keep our lives and economy moving, but on my latest trip, my truck is longer and heavier than usual and I couldn't be prouder. With a 79-foot-tall Engelmann Spruce in tow, I'm the driver who's been safely traveling across the country to deliver this year's Christmas tree to the U.S. Capitol," Spiekermeier writes in the opening paragraph.
Spiekermeier, 70, began his truck driving career in 1968. He's driven 3.5 million miles without an accident and is the first driver in Montana to receive two Driver of the Year awards from the Motor Carriers of Montana.