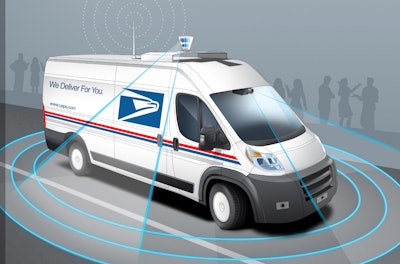 The U.S. Postal Service is embracing autonomous vehicles, though it also recognizes that the technology isn't quite ready for prime time.
In its latest RARC Report titled "Autonomous Vehicles for the Postal Service," the Office of the Inspector General offers up several scenarios where it believes AVs will make a good fit:
■ Driving the letter carrier: Ideal for curbside delivery, the AV would drive itself from mailbox to mailbox, allowing the carrier in the van to prepare the mail for the next address instead of driving
■ Driverless parking: The vehicle would park itself as the carrier makes deliveries, eliminating the need to look for parking spots while ensuring the vehicle is out of the way of traffic.
■ Following the carrier: For walking routes, the vehicle would follow the carrier, reducing walking time to and from the vehicle as well as the heavy loads the carrier has to carry.
■ Picking up more mail from the post office: When mail from the sorting facility is late or there are too many packages to fit in the vehicle, an AV can be dispatched to bring the items from the post office to the carrier on his route, saving return trips.
■ Mobile parcel locker: A complete departure from current delivery methods, a fully autonomous mobile locker would remove the carrier from the operation. It would come to the customer when convenient, allowing 24/7, on-demand delivery.
Additionally, the Postal Service could look at AV trucking applications even though currently highway transportation of mail is predominantly contracted out. The benefits of autonomous trucking may be promising enough that the Postal Service could incentivize its contract partners to adopt the technology, favor those who use it, or bring some long-haul transportation in-house. Two main trucking applications emerged from the research:
■ Platooning: Two or more trucks form single-file "platoons" on the highway, enabled by an electronic system that controls their following distance and possibly steering. Platoons save fuel by optimally reducing wind resistance.
■ Fully autonomous trucks: A truck that is able to drive either the whole route or the highway portion of the route, exit-toexit, without a driver present.
The USPS reports that to stay competitive it's best for the fleet, one of the largest in the world, to continue testing AV technology and refining its transportation strategy.
"The Postal Service's current multi-year effort to upgrade its fleet makes this an opportune time to start laying the building blocks for an AV future," the report states.