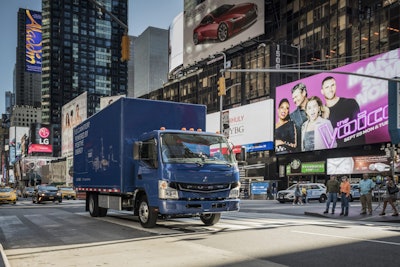 Note: The following article was written by Jeff Crissey, editor of Commercial Carrier Journal, a sister publication of Hard Working Trucks.
In a ceremony in New York City's Lower East Side, Mitsubishi Fuso Truck and Bus Corporation, a Daimler Trucks subsidiary, delivered on its promise to make available its all-electric Fuso eCanter light-duty trucks to key global markets in 2017.
MFTBC begins its initial eCanter rollout to customers in the United States, Japan and Europe, delivering 50 vehicles to customers in each region by year-end 2017, and 500 units overall within the first two years. Fuso eCanters for the European and U.S. markets are now being manufactured at MFTBC's production facility in Tramagal, Portugal, alongside production of the company's conventional Canter truck models.
The announcement marks the first series-produced all-electric commercial trucks in North America. "In times when everybody is talking about electric trucks, we are the first to commercialize a series-produced, all-electric truck," said Marc Llistosella, president and CEO of MFTBC and head of Daimler Trucks Asia. "Having a long history in alternative drivetrains, we are proud to step into this new era."
Citing a population shift to urban centers, increasingly stringent emissions and anti-noise regulations in cities around the world and technological advancements in the commercial vehicle industry, Llistosella said all-electric trucks are key to the future of inner-city distribution and that now is an opportune time to make zero-emissions, all-electric trucks commercially available for certain applications.
"There is no perfect moment for introduction of a new product," said Llistosella. "You have to take risk if you want to change something. Today is a good moment to do that. Battery prices are still too high, but compared to 2010, we have seen a collapse in prices by 75 to 80 percent. On top of that, technology is getting better and energy density is improving."
Jecka Glasman, CEO of Mitsubishi Fuso Truck of America, said the eCanter will cost 20 to 30 percent more than its conventional counterpart, the Fuso FE 160 Canter, but said fuel savings and lower maintenance requirements can quickly offset the higher upfront vehicle cost depending on mileage and usage cycles. According to company officials, every 6,200 miles represents roughly $1,000 in savings.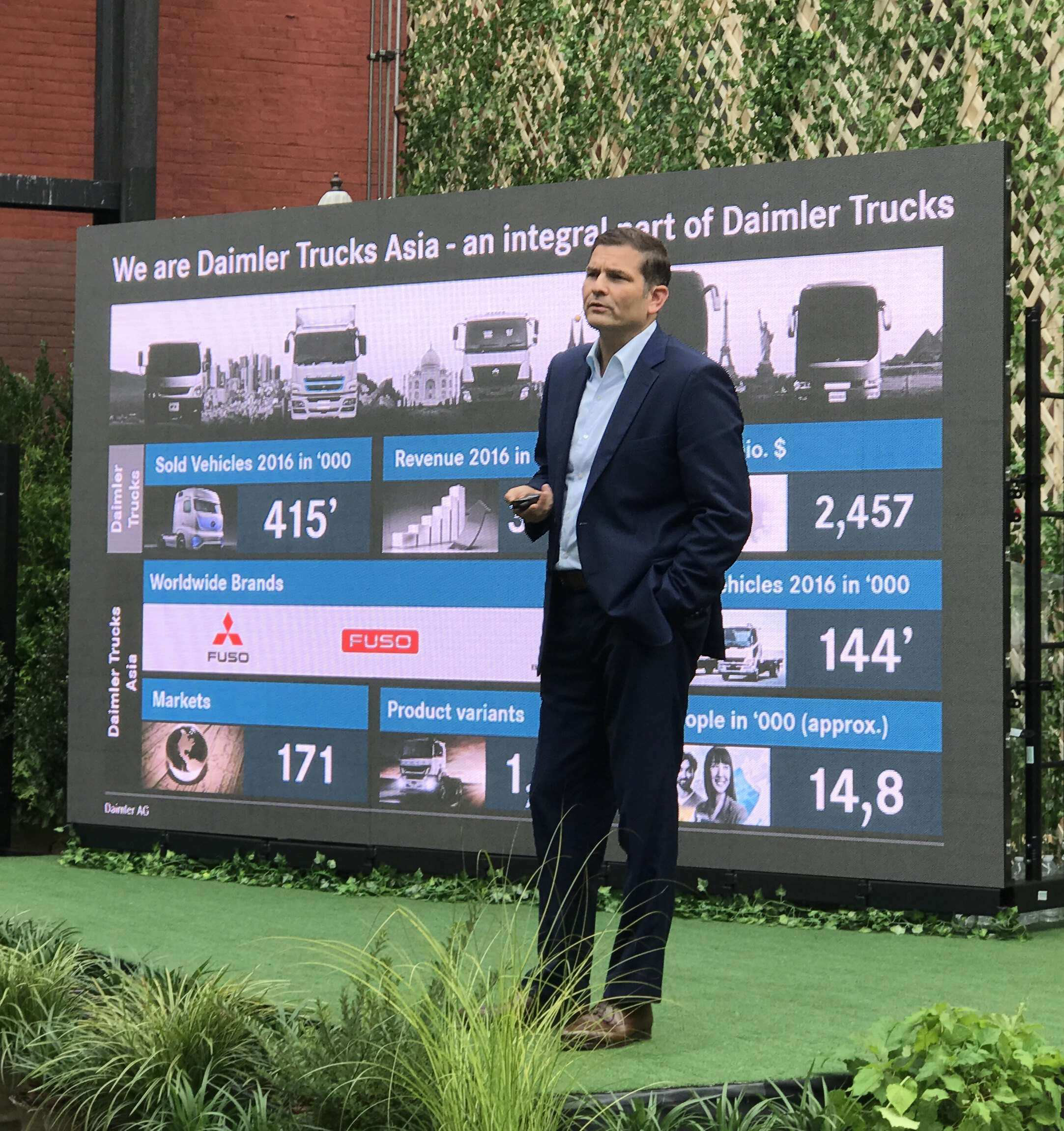 Llistosella added the payback can be accelerated in certain municipalities that have overnight delivery moratoriums using conventional trucks.
"If you imagine a city entry limitation when you aren't allowed to operate late at night [with a non-electric truck], you have a completely different business case," he said. "You can now offer services you couldn't have before. If you add that, the payback is much shorter."
MFTBC said it will only offer its first-generation units on a two-year, full-maintenance lease term. "We know battery technology continues to change rapidly," she said. "After two years, we will replace those units with new battery technology and announce a broader [all-electric] product line starting in 2019."
UPS is the first eCanter commercial customer, taking delivery of three units. "We are happy to add the eCanter to our global fleet," said Carlton Rose, president global fleet maintenance and engineering, UPS. "UPS has 8,500 alternative-fuel and advanced-technology vehicles around the world. No question that electric power will play an important role in the future of vehicles., and this is a perfect opportunity for UPS to explore the benefits of electric trucks."
In addition, four New York-based non-profit organizations will receive eCanters through as program with the New York Attorney General's office, including the Bronx Zoo/Wildlife Conservation Society, New York Botanical Garden, Habitat for Humanity New York City, and Big Reuse Brooklyn.
Batteries for the eCanter are supplied by fellow Daimler subsidiary Mercedes-Benz Energy, and the eCanter's standard battery configuration offers a range of 60 to 80 miles using six lithium-ion battery packs each with 420 volts and 13.8kWh. The eCanter's maximum payload is roughly 9,000 pounds, about 10 percent less than the conventional Canter FE-160.
Operating factors that negatively affect vehicle range include use of in-cab climate control, sloped terrain, driver behavior, payload weight and altitude. Up to two additional battery packs can be added to increase operating range to roughly 100 miles.