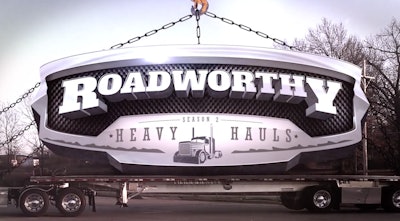 CarbonTV has launched its second season of its original web-series "Roadworthy" with a focus on heavy haulers.
"Roadworthy: Heavy Hauls" is sponsored by Shell Rotella in partnership with MediaCom, and is available exclusively on-demand for free on www.carbontv.com and related CarbonTV OTT apps.
This season features mile high mountain rescues and takes viewers along for the ride, from dispatch to delivery. Four big rig companies featured include: Lindamood Demolition of Irving, Texas, Western Towing in Silverthorne, Colorado, IMT Transport in Garner, Iowa, and Hardy Seeds in Winchester, Ontario, Canada.
From tow trucks, to flatbeds, to cargo semi-truck trailers, these drivers travel winding highways of America to ensure their jobs get done safe and sound. The season culminates at the 35th annual Shell Rotella SuperRigs event, the largest meet up of truck owners and drivers, in Tulsa, Oklahoma.
"After last year's exciting season our viewers wanted more, so we took it up a notch. This new season of Roadworthy we really dive into what it's like to haul extremely heavy loads, and it's no easy task," says Kelley Wolf Griffith, vice-president of production at CarbonTV. "From loading it on to the truck, to the obstacles that happen on route, to the final delivery, we showcase four different trucking companies' hard work throughout the ten-episode season."
With more than 170 shows and 4.8 million monthly views, CarbonTV is the leading online streaming destination for outdoor and rural lifestyle video. CarbonTV is the digital home to acclaimed shows, such as Heartlandia, American Elements, Heartland Bowhunter's Behind the Draw, and Mega Truck Series. Looking for some laughs and bluegrass? Check out The Moron Brothers show. All video content is available on demand, for free at CarbonTV.com and through the CarbonTV app available on iOS, Android, Roku, Samsung Smart TVs, and Xbox One. To learn more, visit www.carbontv.com. Download the iOS app or the Android App. Connect on Facebook: www.facebook.com/CarbonTV.