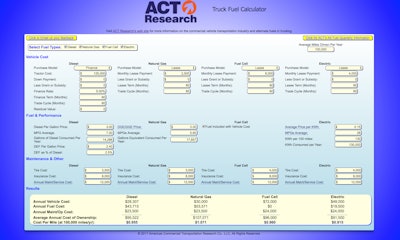 Headlines keep coming about electric powertrains, hydrogen fuel cells and natural gas.
Alternative powertrains, while often promoted for lower emissions and lower operating costs, still need to pencil out.
To that end, ACT Research has released an enhanced fuels calculator for fleets that includes operating cost comparisons between diesel, natural gas, hydrogen fuel cells and electric.
ACT's free Truck Fuel Calculator is designed to help fleets measure power selection and vehicle cost, fuel and performance and maintenance over a set time period or trade cycle. Check it out. You may be surprised. Just make sure to have the price per KWh handy if you want to see how electric compares to diesel, etc.
ACT also offers a "Natural Gas & Alternative Fuels Quarterly Report" for companies interested in the alternative fuels market. It is designed to give enhanced insights in the evolution of the adoption of alternative fuels for the heavy duty transportation industry. For more information please visit http://www.actresearch.net/altfuelquarterly/.