While state police in New York are still trying to determine if cell phones played a role in a deadly tractor-trailer accident earlier this month in Sandy Creek, at least one fact remains clear: New York has a deer problem.
On July 6, a tractor-trailer traveling northbound around 11:38 p.m. on Interstate 81 jackknifed across the road after its driver swerved to avoid hitting several deer. Shortly after, two cars struck and rode under the trailer, their roofs shearing off during the collision.
All four occupants in those two cars died at the scene, according to New York State Police. A doctor in one car was killed along with three ambulance workers in another vehicle. The truck driver was not injured and is not expected to face any charges.
"At this point charges haven't been lodged," Trooper Jack Keller told HWT. "It's a little too early. They're still investigating, but I don't anticipate it at this point."
The investigation includes examining the cell phones of the drivers involved in the accident for possible evidence of distracted driving.
Though the investigation is still ongoing, U.S. Senator Chuck Schumer called for immediate federal action in three areas: update the truck rear underride guard standard; require trucks be equipped with side underride guards; and study truck front underride guards.
While lamenting the loss of life, HWT readers this week expressed disappointment in Schumer's goals to further regulate the trucking industry (See "Deadly accident prompts Sen. Schumer to call for new truck safety regulations").
"Why is it that every time there is an accident involving a truck, the trucking industry is blamed for it whether or not the accident was their fault?" Susan Starnes notes in her comment following Sunday's story on HWT. "My condolences go to the families of those accident victims. But, that is exactly what it was…an accident. Why do politicians have to get on their soapbox to stay in the limelight and find more ways of adding expenses to the trucking owners?"
Karl writes, "If I read this right the truck was jackknifed due to avoiding an accident. The cars drove under the trailer. Hmmmm…so if I hit a pedestrian standing in the road it's my fault. If I hit a truck in the road it's the truck's fault? Schumer is a typical representative. Never let a tragedy go to waste."
Karl continues, "Also if I read correctly a deer started this chain of events. What is Chucky recommending we do about the deer? Nothing? Hmmm…is it because there is no money or attention to be had? People you need to start seeing the big picture on things."
Will writes, "How about the state is financially responsible for each accident involving animals that are running at large?"
Deer overpopulation has been an ongoing problem in New York. A headline there from last month reads, "As Syracuse deer population explodes, officials secure funding to buck the trend." (Syracuse is about 40 miles south of Sandy Creek.) A headline coming out of Long Island last week states, "Village considers allowing dart guns to control deer population." Another headline from 2015 reads, "Deer are invading New York City and we don't know how to stop them."
New Yorkers continue to debate over how to control growing deer populations. Ideas include increased hunting, relocation and contraception. Like hunting, relocation is a controversial topic among animal rights activists. Relocations are granted by permit only through the state's Department of Environmental Conservation.
In an article titled "Deer Overabundance" the DEC addresses growing deer populations and reports that while pretty and graceful, the animals are "causing increasing problems, particularly in suburban and urban areas."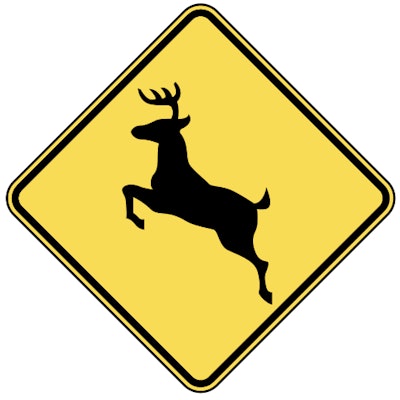 Animal rights activists in Long Island do support experimental contraception though dart-administered injections of porcine zona pellucid, a chemical derived from pig ovaries that can prevent pregnancy in wildlife. If the plan is carried out, the cost for the six-year experiment would be around $250,000. However, the DEC says experiments thus far have largely been unsuccessful.
"Communities that have tried fertility control have found it inadequate for reducing deer numbers, and most have turned to lethal methods within a few years," the DEC states in "Deer Overabundance."
The area along I-81 where the July 6 accident took place is a rural area. HWT asked Trooper Keller if fences were in place along I-81 to help prevent deer crossings.
"Sections of I-81 are fenced off to keep deer out on the shoulder side, but not the median," he said. "It appears they came from the shoulder side. That's where he (the truck driver) advised us that he saw four or five of them."
HWT asked if deer crossings have been a continual problem in that area where the accident occurred.
"In that area I wouldn't be able to tell," Keller said. "But up and down the interstate there we do get frequent car-deer crashes, but not to this level to cause this kind of tragedy."
It's not just the deer that posed a problem that night. Once the truck jackknifed, power was cut-off to the trailer lights making it more difficult to see as it lay across the highway. Also, like many roads in rural areas, there are no lights along that section of I-81.
State Farm estimates that there are over 70,000 deer-vehicle collisions annually in New York, according to the DEC. The national cost average for property damage per collision is $3,305.
Besides being dangerous and even deadly on the road, deer continue to cause millions of dollars in crop losses and carry ticks that harbor lyme disease.