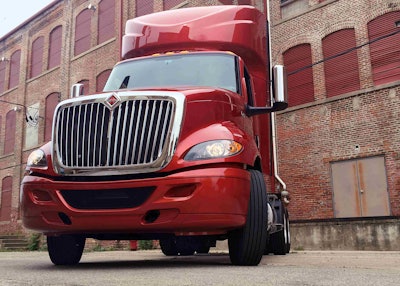 When International debuted its RH Series tractor in April, conventional wisdom suggested the R in its nomenclature stood for "regional." But, there's at least one other word it could stand for: Redesigned.
Little influence remains from the ProStar 113-inch BBC and the TranStar 107 models that the RH – the second of four tractors that will be born from the company's Project Horizon – will soon supplant.
Some interior features have carried over from International's LT Series, like the placement of switches driven by driver surveys and feedback, but for the most part RH is distinctly its own thing.
The chassis has been light-weighted, with the rear suspension coming in about 130 pounds lighter than comparable models. International left no stone unturned when it came to shedding weight. For example, with the integration of cast aluminum fuel tank hangers, the truck dropped 60 pounds.
The RH features a 27′ 10″ curb-to-curb turning radius thanks to its 50 degree wheel cut and a major component of the design process was increasing visibility to go along with improved maneuverability and safety on congested city streets and in delivery applications.
The tight turning radius easily navigated a crowded Aurora, Ill., alley way that adjacent to the historic building that originally served as International Harvester Manufacturing Co.
The truck's high stance and low sloping hood means someone barely 10 feet from the front bumper is fully visible to the driver. Pedestal door-mounted mirrors have been moved down and out, allowing for another 20 inches of visibility closer to the door than legacy models and the redesigned mirrors also save .25 percent in aerodynamics while reducing wind noise. A fin mounted on the side of the door keeps the window cleaner and improves visibility to the mirror.
R may stand for regional – or maybe redesigned – but the RH is also ridiculously quiet. The door was designed to be twice as stiff as the models RH will replace, and its two-stage seal locks out wind and road noise. The engine's sculpted crankcase and oil pan, which are isolated through a specially designed rubber gasket that absorbs vibration before it is amplified through the oil pan, further helps reduce noise.
Window switches on the door have been moved forward and the door lock pin has been moved back away from the elbow. The end result is a comfortable and natural resting position.
"Everything is still very close but not in the way," says Bill Distel, Navistar's director of product marketing for on-highway trucks.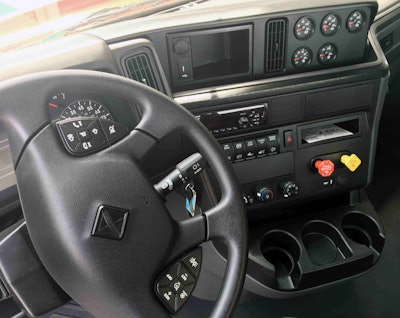 Distel adds that a lot of work went into moving the switches drivers need most closer to them in an effort to keep their eyes on the road. Things needed while the truck is stopped – like the air brakes and trailer brakes – have been pushed farther out.
Steering wheel-mounted buttons for cruise control and Bluetooth are laser etched and backlit, ensuring lettering won't wear off after years of use and each has a tactile feel that gives the driver feedback that the switch has been activated when pressed.
The shifter for the Eaton AMT has been moved to a stalk on the steering column, up from a bank of dash-mounted buttons at the driver's right knee. This is a much more comfortable and intuitive position that also allows for an extra two extra inches of space between the seats. Drivers can shift to manual mode and use the engine brake from the same stalk without taking their hands off the steering wheel.
[rr-story-promotion id="152357″ align="right"]My drive this week around the Chicagoland area was also my first opportunity to pilot International's new A26 engine, which began deliveries less than two weeks ago.
The MAN-inspired powerplant replaces the N13 with a host of improvements.
International is putting all its chips on the A26, the only engine available in the RH Series. Due to the truck's compact cooling system, Distel says the Cummins X Series was too large and a Cummins 9-liter would be underpowered.
Orders of the A26, Distel says, are about twice what the company expected this early into production, with about 1,600 engines pre-order between LT Series and RH Series trucks. He is also quick to point out that even though Navistar has been building engines off the MAN platform since 2007 – a partnership that was strengthened when Volkswagen acquired shares in the Lisle, Ill. truck maker almost a year ago – engine design isn't a one-way street.
"There's parts of this engine that [Volkswagen engineers] like and they are looking at," he says. "Everyone assumes the technologies come from there to here but it's going both ways."
Among the design tweaks Navistar engineers had to make to the MAN D26 was to redesign an engine built for a European cabover to one more suitable for an American conventional.
All the air coming through the front of the grille is now forced through the compact cooling module, allowing for the use of a six-blade radiator fan that needs less horsepower to operate. The six-blade fan needs only about 50 hp to compared to 80 hp for a standard 12-blade.
The A26 – and its 370 to 450 hp and 1,350 – 1,750 lb.-ft. of torque – is 55 pounds lighter than the N13. With a dry-weight of just under 3,000 pounds, it's the lightest engine in its 11-13 liter class.
The engine saves 200 pounds off the chassis and another 105 pounds of weight savings comes from switching to a single canister after treatment system. Another benefit of the single can is that it allows for fewer troublesome sensors.
"Anytime you can pull sensors out, that's a huge benefit," Distel says.
Designers further reduced weight by dropping a turbo, migrating from a dual turbo setup to a single variable geometry turbocharger, which uses a titanium compressor wheel with a simplified single-stage design, simplifying the engines's air and cooling system while boosting engine braking power by up to 67 percent.
An improved onboard computer now includes after treatment controls, which previously was under the driver-side door.
International's RH Series is a smart re-refreshment of its regional haul entry that maximizes maneuverability while amping up drivability, and its pairing with the nimble and powerful A26 gives Navistar a capable short-haul delivery truck that makes a strong business case for its share of the highway.