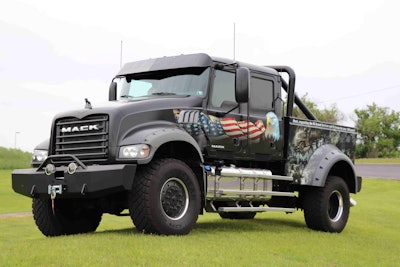 Mack Trucks employees again will participate in the Rolling Thunder Ride for Freedom rally this Memorial Day weekend to pay tribute to America's fallen military.
This year, Mack's Ride for Freedom truck is Jack Mack, a custom-built one-of-a-kind mega-crew cab named after John "Jack" M. Mack, one of the founders of Mack Trucks.
The 30th annual rally will take place in Washington, D.C. Mack Lehigh Valley Operations and Mack Customer Center employees will travel from Pennsylvania by truck and motorcycle to Hagerstown, Maryland for a special memorial ceremony at Mack's powertrain facility. Hagerstown employees will then join their colleagues following the ceremony as they continue to Washington, D.C. to join thousands of other Ride for Freedom participants.