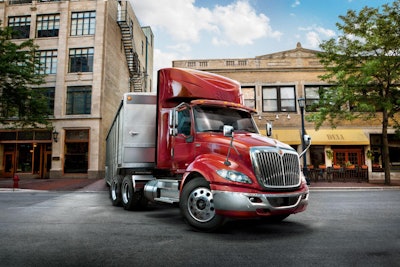 International Truck on Thursday continued its product update cycle with the launch of the new International RH Series Class 8 regional haul tractor.
The truck, which made its debut at ExpoCam in Montreal, will be the first new model to get International's new 12.4 liter A26 engine as standard.
Navistar will begin taking orders for the RH Series next month.
For the RH Series, Navistar engineers redesigned side windows and mirrors to provide enhanced side visibility. The RH Series provides an inside wheel cut of up to 50 degrees delivering a curb-to-curb turning radius of only 27 feet 10 inches. The RH Series is a replacement for the ProStar 113-inch BBC model and the TranStar 107.
Like its LT Series truck, the interior for the RH was conceived from a study of interaction points between the driver and truck – everything from what a driver sees to how he moves and reacts in virtually any situation, Navistar says. Features like a large swept-back windshield, optimized mirror placement and an aerodynamic sloped hood for a clearer view, all contribute to greater visibility, the company notes.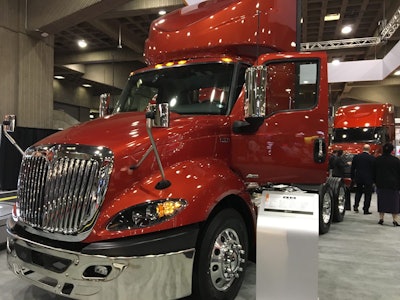 "We drew upon the expertise of drivers to ensure that the RH Series is the most driver-centric Class 8 regional haul vehicle we've ever built," says Denny Mooney, senior vice president, Global Product Development, Navistar. "Many of our customers tell us that their number-one challenge is attracting and retaining drivers, which is why we put so much effort into understanding and responding to drivers' needs."
The redesigned interior features a new premium gauge cluster with a digital driver display that places everything within comfortable reach, while offering drivers real-time monitoring of fuel economy and other important alerts in clear sight. The new display also offers up to 15 customizable digital gauges. In addition, the air horn was relocated back to its traditional, intuitive position over the driver door in response to overwhelming driver feedback.
Serviceability
The cab wiring includes all-new harnessing and an in-cab power distribution module that is inside the truck, tucked away from the elements.
All key service points under the hood, inside the cab and around the vehicle are ergonomically designed for easy access and servicing, and many components have been engineered with longer intervals between required maintenance.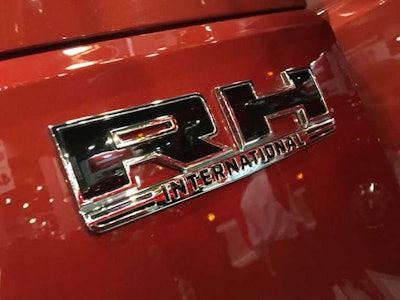 The new single-canister after-treatment system is 60 percent smaller and 40 percent lighter and also offers faster servicing.
The same aerodynamic improvements that boosted the RH Series' fuel efficiency also yielded a four-Sone decrease in wind noise, which eliminates noise harshness for improved driver comfort. Together, aerodynamic and driveline improvements make the RH Series up to 6 percent more fuel-efficient.
The RH Series will be offered in a 56-inch low roof sleeper, 56-inch hi-rise sleeper, day cab with roof fairing, and 56-inch hi-rise sleeper with roof fairing. Bendix Wingman Advanced Collision Mitigation system comes standard in the RH Series.