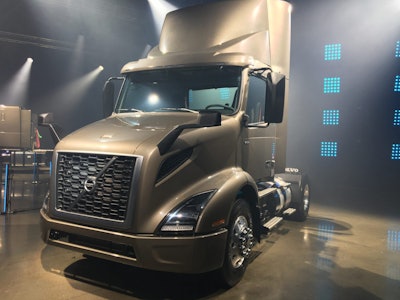 Volvo Trucks North America on Wednesday in Montreal rolled out the company's newest production model tractor to its VN Series, which debuted 15 years ago.
At the end of this year, the VNR will succeed Volvo's VNM model, a truck Volvo's Director of Product Marketing Wade Long says customers felt was "a little dated."
"With the new VNR, we've actually brought really great aesthetics to that product," he says, "but we've also brought aerodynamics with that."
The VNR will be available in three models: daycab, 42-inch flat roof sleeper and 61-inch mid-roof sleeper.
Volvo's launch of the VNR coincides with what the company believes is strong market potential in North American regional trucking operations, citing shrinking lengths of haul, driver desire for more home time and consumer demand for immediate delivery of goods.
"The regional haul segment is changing and growing, and we are going to be a part of the solution to help our customers perform in that segment, but it needs a champion," said Göran Nyberg, president of Volvo Trucks North America.
The VNR model features Volvo's high-strength steel cab and exceeds both the Volvo Swedish Cab Safety Test and ECE R-29 rollover requirements. In the event a crash would occur, available side airbags for the driver's seat also help protect the driver in a roll-over situation. The driver's seat airbag complements the steering wheel-mounted driver's-side airbag, which is standard on the VNR.
Inside the cab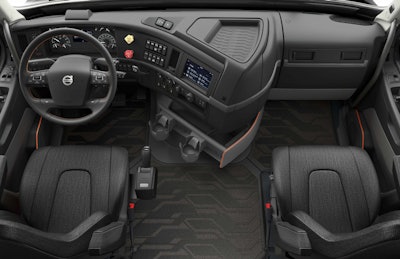 VNR will feature three interior trim levels: Fleet, Express and Premium. Long says the VNR improves the driver's position with two additional inches of seat travel.
"We also lowered the hip point," Long says. "For lower stature drivers, their feet weren't always flat on the ground and that causes [fatigue]."
Volvo took several design cues from the people behind the wheel; asking drivers everything from their seat preferences, to what they have on their dash and where they store their coolers.
"It is a cool truck that will meet tomorrow's demands," Nyberg says, "that will by design help the drivers to do a better job."
New cupholders are modular and flexible and mounted on a rail with an easy toggle switch release. A 5-inch full-color display features audio with Wi-fi, Bluetooth, navigation, apps and an exterior camera.
A new three-motion adjustable steering wheel offers tilt and telescoping, but also provides a 30-degree tilt relative to the position of the steering column.
"The stature of the driver pool is changing," Long says. "Larger drivers can get even more room between them and the steering wheel."
Door panels are highlighted by "cool blue lighting," Long says. "Lighting gives you a sense of how tired and restful you feel at the end of the day."
The speaker has been brought forward to provide better sound inside the cab and a puddle lamp illuminates the steps at night.
Volvo Active Driver Assist warns drivers through sound and a critical warning signal projected onto the windshield when they approach too close to an object in front of them, and the system can automatically apply brakes to help mitigate a collision. Automotive-quality LED headlights increase visibility and decrease light spillover onto oncoming traffic. Automotive features like automatic lighting and rain-sensing wipers provide convenience and help driver safety, while the lane change support system provides visibility to blind spots.
Exterior design
Billed as "the shape of trucks to come," VNR's chief designer Brian Balicki says inspiration for the truck's exterior came from motorsports.
"Looking at high performance, the way the lines on the product moved on the entire vehicle," he says. "We wanted to make sure this was an iconic design."
"We wanted to make sure it looked light and airy but also very robust."
A redesigned grille gets a new honeycomb style that optimizes airflow.
Headlights, Long says, are aerodynamically designed into the front of the truck versus along the side, lessening the likelihood for damage.
The hood features about a 70 pound weight savings over the VNM with improved visibility.
With a 113-inch bumper-to-back-of-cab (BBC) length and improved sightlines over the hood, the new Volvo VNR was designed for increased maneuverability and versatility in tight spaces and urban traffic to complement its leading 50-degree wheel cut.
"We've brought the hood in closer to the radiator package, giving us four more inches of corner visibility and it puts the ends of the bumper completely inside the turning circle so the driver doesn't have to worry about where those are in tight turning situations," Long adds.
Fuel efficiency
Compared to a VNM equipped with an EPA 2014 engine, the new VNR equipped with an EPA 2017 engine features a more than 3 percent fuel economy improvement.
Volvo D11 engine is standard on the new Volvo VNR with up to 425 horsepower and 1,550 lb.-ft. of torque. The VNR can also be spec'd with a Volvo D13 engine rated up to 500 horsepower and 1,850 lb.-ft. of torque.
Each new Volvo VNR is equipped with Volvo's factory-installed telematics hardware, providing connectivity for predictive diagnostics and monitoring of critical engine, transmission and aftertreatment trouble codes through Volvo's Remote Diagnostics. Through Volvo's standard connectivity hardware, customers can also perform powertrain software and parameter updates over-the-air with Remote Programming, which helps improve uptime, reduce downtime costs and improve vehicle efficiency.
VNR will be available for order next week with production set begin in August and will be produced at Volvo's New River Valley assembly plant in Dublin, Va., while the Volvo engines and transmissions powering the VNR will be produced at Volvo's powertrain manufacturing facility in Hagerstown, Md.
Commercial Carrier Journal editor Jeff Crissey contributed to this report.