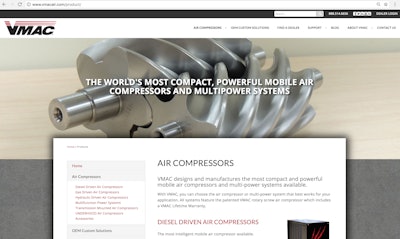 VMAC Global Technology announced that its new website VMACAir.com has been redesigned to provide customers a faster and more informative online experience.
"We are thrilled to launch this new website as it is an important step in ensuring that our customers are equipped with the information they need to make business decisions, find dealers, and learn more about VMAC air compressors and air compressors in general," says Mike Pettigrew, VMAC's Marketing Manager.
"More and more customers are accessing information electronically to make better and faster business decisions and VMAC has responded with a website design that will add exceptional value to that process."
VMAC reports that VMACAir.com has been designed with a sleek, modern look and features more intuitive navigation along with a new search tool.
The content has also been updated allowing customers to find the information they need quickly and easily. The dealer locator function has been upgraded allowing customers to find their dealer of choice's local contact information, as well as a list of the products sold and serviced at each location.
Further features of the new website include the addition of service kits and accessories, allowing customers and dealers to find service kits for maintaining each product. Kits are listed online with a product name, description, part number, and list of parts included.
On the product pages, dealers and customers will be able to see which accessories are available for each air compressor.
Another change made to the website is the integration of the VMAC blog. This allows users to easily navigate between the website's product information and the blog's educational pieces.
"I'm very pleased that we have now integrated our blog into the main VMACAir.com site," says Anne Fortin, VMAC's digital marketing specialist. "Having all of our information on one site is a great way to ensure we're delivering a positive user experience."