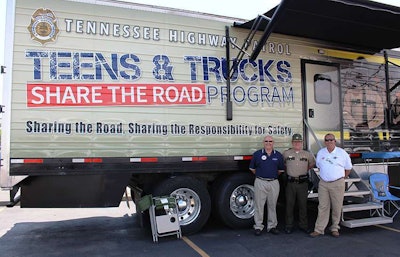 Here's a scary proposition: teen drivers and trucks on the highway.
Teens often think they're invincible, but the numbers don't lie. In fact, the AAA Foundation for Traffic Safety reports that vehicle accidents kill more teens than drug use, AIDS and street violence combined.
To help teens practice better road-sharing skills with large trucks, the Tennessee Trucking Association (TTA) has been busy reaching out to public and private high schools as well as driver instruction companies to let them know about the Teens & Trucks Share the Road program.
TTA partnered with the Tennessee Highway Patrol (THP) which visits at least three high schools each quarter with its Teens & Trucks tractor-trailer. Six personalized driving simulators are housed inside.
Troopers first instruct teens on the importance of safely sharing the road with tractor trailers. Students then watch a 42-inch flat screen TV on the outside of the trailer to gain insight about the simulator experience. Once inside the trailer, teens use the virtual reality simulators to learn how to safely drive around large trucks.
Simulator stations feature steering wheels, brake and gas pedals along with TV monitors that wrap around the driver's seat to make the experience as realistic as possible.
To help personalize the experience, students receive individual instruction from a state trooper on board through headphones. Teens are exposed to seven possible driving situations: distracted driving, stopping safely, reaction times, tractor trailers making wide right turns, the no zone areas of a tractor trailer, effects of cutting off a tractor trailer and the Move Over law.
On Wednesday, troopers took the truck to Sullivan Central High School in Blountville, Tenn.
"The truck has spots in the back, on the side and directly in front of it where if there is a vehicle they cannot see you," Sergeant Noah Click told wcyb.com. "If they don't know you're there, they're going start a turn and if you're there, you're going to get hit."
By request, state troopers will take the simulator across Tennessee and educate teen drivers at high schools, high school sporting events, civic centers, etc.
Tennessee does not have state education standards for driver's education, so schools and driving instruction companies may choose whichever program they like best, according to TTA. All programs are monitored by the Tennessee Department of Safety.
"The consensus has been from all groups surveyed that there is not enough emphasis on the importance of understanding how to drive safely around large trucks and commercial vehicles," TTA writes on its website.
"This curriculum is well structured, effective and can easily be incorporated into any existing driver's education program. Please contact the Tennessee Trucking Foundation to request your Copy of the Teens & Trucks DVD, Student Workbook and Lesson Plan."
THP was awarded a grant from the Federal Motor Carrier Safety Administration (FMCSA) to construct the Teens & Trucks tractor-trailer. Other Teens & Trucks partners include the University of Tennessee, Tennessee Tech University, Semtech, Loyalty and Wrapartist.
For more information on scheduling the teen driving simulator, please contact the highway patrol's Commercial Vehicle Enforcement (CVE) unit at 615-743-4971.