More than 150 new products were unveiled from among 500-plus companies at The Work Truck Show 2017 last week in Indianapolis.
Advances in electrification; diesel, gasoline and advanced fuel powertrains; light-weighting; augmented reality and solar power led to plenty of product reveals and a record 26 press conferences.
"There was a lot of energy in the building," said Steve Carey, NTEA executive director. "Attendees were excited to check out the latest trucks, equipment and technology on the exhibit floor, to test new vehicles during the ride-and-drive and to take advantage of more than 60 learning opportunities throughout the week."
A total of 11,799 industry professionals from all 50 U.S. states, plus Puerto Rico, and 22 countries attended The Work Truck Show 2017 at the Indiana Convention Center from March 14–17 . NTEA expanded the show to occupy all available space in the convention center this year, making it the biggest event in association history.
At the show, Mitsubishi Fuso Truck of America announced it will bring its new eCanter fully electric Class 4 trucks to market before the end of the year.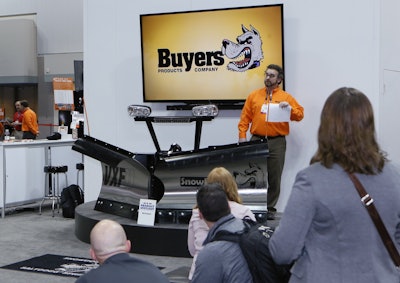 In other electrification news, Ford Commercial Vehicles introduced its eQVM program to help customers get electrified and hydraulic hybrid work trucks that retain their original powertrain warranties. The program launched with three developers: XL Hybrids, Motiv Power Systems and Lightning Hybrids. XL Hybrids also debuted its XLP plug-in hybrid electric powertrain on a Ford F-150. eNow introduced the Wireless Monitoring System for its solar-based commercial vehicle power systems.
Other notable product launches included the Foundation Food Truck walk-in van body from Morgan Olson, Allison Transmission's FuelSense 2.0 featuring DynActive Shifting software that can deliver additional fuel savings of up to 6 percent, and the VMAC DTM PTO-driven air compressor that mounts directly to a truck's transmission.
Ram Commercial demonstrated its new Augmented Reality Upfit Configurator, a computer-generated visual program that enables upfitters and dealers to showcase a number of vehicle options to customers who can virtually walk around and look inside upfit vans and chassis cabs.
Additional buzz-worthy news came from Cummins Inc., Knapheide, Mack Trucks, Parker Hannifin, Ranger Design and Switch-N-Go.
Green Truck Summit, the premier alternative fuels and advanced technology conference held annually in conjunction with The Work Truck Show, had increased attendance even as fuel prices are at historic lows in North America. The Summit explores the pathway toward zero emissions, recognizing there is not a single alternative fuel or technology that is the sole solution.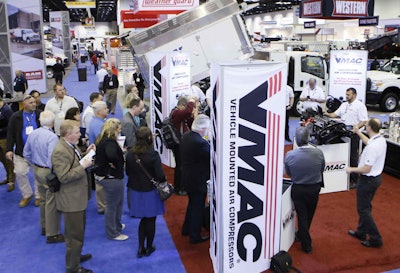 "The Green Truck Summit is unique because it brings together industry, academia and regulators to find the common ground moving forward," Carey said.
This year's event featured representatives from California Air Resources Board, National Renewable Energy Laboratory, Transport Canada, Union of Concerned Scientists, U.S. Department of Energy and U.S. Environmental Protection Agency presenting alongside leading OEM engineers and fleet customers.
Other popular educational options this year included special sessions on recruiting and retaining millennials, implementing lean processes, rapid prototyping and fleet management. A sold-out crowd attended the President's Breakfast & NTEA Annual Meeting with keynote address by Terry Bradshaw and Howie Long on March 16.
The Work Truck Show, one of the top 100 trade shows in the U.S., returns to Indianapolis March 6–9, 2018. Sessions begin March 6, and the exhibit hall is open March 7–9.
Join the Work Truck Show conversation on Facebook at facebook.com/TheWorkTruckShow, and on Twitter at @WorkTruckShow. The official Work Truck Show and Green Truck Summit hashtags are #worktrucks17 and #greentrucks17.