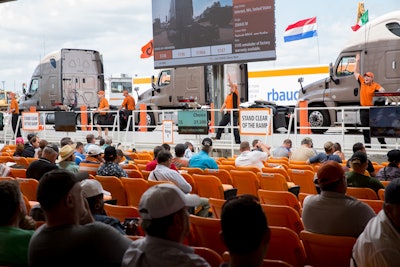 Those market tailwinds that Ritchie Bros. referred to during a press conference last week at its seminal auction in Orlando continued on Friday as used Class 8 trucks brought in higher prices over the last quarter in 2016.
Today the global auction company reported that its $188 million-plus five-day sell-off this past week set new records for bidders and sellers while reeling in 9 percent more gross proceeds over last year's Orlando auction.
"We would like to offer a sincere thank you to all the sellers and buyers that made this sale a huge success," said Ravi Saligram, CEO, Ritchie Bros. "Our February Orlando auction is a very important event in our auction calendar. Our customers clearly appreciated the diverse line-up of equipment as they turned up in record numbers, helping us achieve strong pricing in all categories throughout the week. As a result, we saw a nine percent increase in total gross auction proceeds over the same auction last year."

More than 10,000 equipment items were sold at the 240-acre site including 610-plus excavators, 425 compactors, 300 loaders, over 300 skid steers, 175-plus dozers, over 140 loader backhoes, 110 cranes, 440-plus aerial work platforms, 210-plus dump trucks, over 490 tractor trailers and more.
Class 8 trucks, particularly pre-emission models, proved popular with buyers.
"We are still experiencing good demand on pre-emission trucks," Jake Lawson, Ritchie Bros. senior vice-president, told Hard Working Trucks on Friday. "We had one 2007 Kenworth and it brought $97,500. It was impressive to see."
That Kenworth had 600,000 miles, but as Lawson explained, neither miles, age, engine size, make or model really made much difference to buyers onsite and online who were eager to buy used big rigs.
"We were impressed with the results. We definitely saw an uptick in pricing from Q4 last year," Lawson said. "Despite the quantities we had, there was really no erosion over the course of the day, so that was really nice to see. We sold comparable trucks for better pricing today than we did on the back end of 2016. So that was very encouraging."
Among the Class 8 line-up, it was mostly 6×4 trucks that hit the auction floor. Transmission type, whether manual or AMT, didn't have a noticeable impact on sales.
"We haven't seen that yet," Lawson said. "We haven't seen any kind of significant difference in that regard."
Ritchie Bros' Orlando auction is considered a barometer of sorts that offers insight into how the used truck and equipment market will perform for the year.
"We've had four auction sales this year: Tipton, Calfornia; Houston, Texas; Phoenix, Arizona and here (Orlando)," Lawson said. "Across the board, transportation's been solid at all four auctions over the last two weeks, so that's a good indicator."
At a press conference last Wednesday, Lawson said customers within the used truck and equipment market are encouraged by President Trump's administration.
"There feels like there are some pretty good tailwinds right now in the business. Obviously since November following the election there's this implied infrastructure spend coming and we believe that it's coming," Lawson explained. "President Trump seems to be signaling that he's going to be doing some of those things that he said he's going to do, which is bringing some confidence in the market.
"There's obviously some industrial job creation and when you talk to our customers that's what we're feeling and experiencing right now. Investment dollars are beginning to flow to contractors right now. And of course everyone's aware of the Keystone and Dakota pipelines that have been approved (by President Trump) so far."
Lawson cautioned that good news on the infrastructure job front can create hesitation among used truck and equipment sellers.
"When the demand picks up we're going to have a bit of a contraction in the supply. People may want to hold on a bit longer in case they get that job," he said. "These customers that we've traditionally talked to in the off-season, they've taken a long time in the off-season to take a break, and these people are busy. And a lot of these people are deferring equipment buying and selling decisions right now until they've had time to think about it and that's been a bit of a challenge."
Used medium-duty trucks prices at the Orlando auction remained stable from last quarter. Used water trucks and pickups, on the other hand, were popular sellers.
"They did great," Lawson said of the water trucks and pickups.
One stand-out pickup, a restored 1970 Chevrolet C10, sold for $14,000, Lawson said.
"A lot of our customers are contractors and our contractors have their people or themselves in pickup trucks. There's always a use for job site pickups, foreman pickups and things like that. So with the crowd that we had here and the selection of pickups, we had some really strong pricing throughout the day."
Ritchie Bros. hosts more than 350 auctions around the world each year. Besides shopping at its popular unreserved auctions, customers can also use the company's reserved pricing auction website, equipmentone.com.