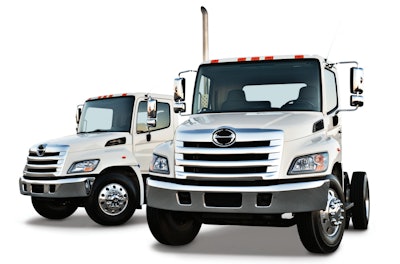 Hino Motors Manufacturing is seeking an exemption from the federal regulations regarding the location on a truck's windshield in which a safety technology systems can be mounted.
The Federal Motor Carrier Safety Administration amended its regulations in September 2016 to allow cameras and other "vehicle safety technology" to be mounted on windshields no more than four inches below the upper edge or seven inches above the area swept by the wipers, and outside the driver's lines of sight.
Hino, a Toyota Group Company that manufactures Class 4-7 trucks, is specifically requesting the exemption for an automated emergency braking and a lane departure warning system, which would be mounted near the center of the windshield. The company says the camera housing is approximately 4.67 inches wide and 4.3 inches tall, and that the bottom edge of the camera is approximately seven inches below the upper edge of the windshield, rather than the maximum limit of four inches. Hino adds that the system is mounted outside the driver's and the passenger's normal sight lines to mirrors, highway signs, signals and the road.
The company says placing the system in that spot will allow for its best functionality. After a prototype was installed on Hino's lowest cab height truck, drivers and passengers said there was no obstruction to their lines of sight to mirrors, highway signs, signals or the road, Hino adds.
FMCSA is requesting public comment on the Hino's exemption request, which can be made here through Feb. 21.
Note: This story first appeared in HWT's sister publication, Commercial Carrier Journal.