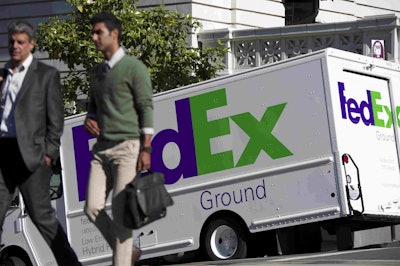 Increased internet commerce has led FedEx and Walgreens to forge a partnership that's designed to make package deliveries more convenient and streamlined.
Thousands of Walgreens locations across the U.S. will soon be offering FedEx pick-up, shipping and package return services.
"Walgreens, with its strong focus on customer care, is the perfect retailer to help us continue to meet the growing demand for convenient, secure drop-off and pickup options, and our research has shown that customers rank pharmacies as a preferred location for accessing their e-commerce shipments," said Raj Subramaniam, executive vice president, chief marketing and communications officer, FedEx Corporation.
FedEx announced that as part of the FedEx Onsite program, customers will be able to drop off pre-packaged and pre-labeled shipments at Walgreens stores and pick up packages that they direct to their neighborhood Walgreens.
After an initial, small-scale rollout this spring, Walgreens and FedEx expect to have the program available at thousands of Walgreens locations later this calendar year and chainwide at nearly 8,000 Walgreens stores by the fall of 2018.
"The addition of Walgreens locations to the existing network of FedEx retail offerings will substantially increase customer access to staffed pickup and drop-off locations and enhance convenient access to FedEx Ground and FedEx Express package shipment and drop-off options," Subramaniam said. "We look forward to offering these capabilities to customers, and continuing to meet their e-commerce shipping needs with these flexible options."