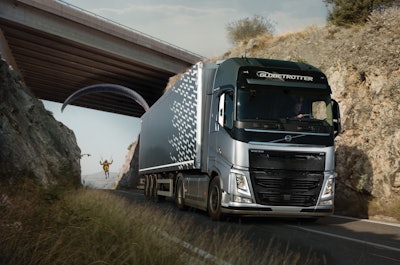 Volvo Trucks continues to attract more attention to its brand thanks to another one of its stunt videos which went viral soon after being released.
The truck maker posted a video on its YouTube channel Tuesday showing a paraglider getting towed by a Volvo FH 540 truck under an overpass in Croatia. The stunt is the first of its kind in the world, according to Volvo, and was aired to help draw more attention to the truck's updated D13 engine and I-Shift Dual Clutch gearbox. As of Wednesday afternoon, the video had drawn over 560,000 views.
"This Live Test was set up to demonstrate the performance of Volvo Trucks' unique powertrain with the I-Shift Dual Clutch gearbox," Volvo Trucks writes on its YouTube site. "To keep the paraglider in flying, the truck had to keep up its speed even when driving on demanding roads up a mountain pass."
The video has been picked up by various media outlets around the world, including foxsports.com. It's unclear, however, if all the publicity generated by Volvo's stunt videos have helped sales.
In September, declining truck sales led Volvo to layoff 143 employees in September at its truck powertrain factory in Hagerstown, Md. The layoffs followed 138 other job cuts made at the plant earlier this year.