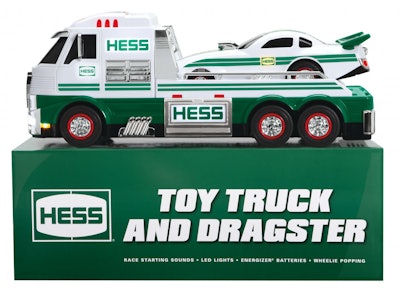 With the holidays fast approaching, Hess has unveiled its 2016 Toy Truck and Dragster.
The dragster, the largest race car ever produced by Hess, rests on the flatbed. Over 50 lights and various sounds on the truck and dragster add to the fun.
The truck's lower body is painted in that familiar Hess green hue, while the upper body stands out in a green-accented white. Chrome detailing includes a front grill, sunshield, side panels and exhaust pipes.
Four buttons in the cab activate headlights, tail and running lights and three sounds: ignition, horn and a race countdown. A hidden ramp features a slide-activated hydraulic sound.
The dragster's pull-back motor and tilt-activated weight transfer design allows the toy to launch in either a flat or wheelie position. The racer features super bright LED headlights, a stylish spoiler, and chrome detailed hood-mounted air intake, side exhaust pipes and rear parachute box.
The 2016 Toy Truck and Dragster is sold exclusively at www.hesstoytruck.com for $31.99 plus tax, and includes a total of five Energizer batteries and free standard shipping.
Hess first began selling toy trucks at its gas stations in 1964. A truck from that time is currently selling on eBay for $1,400.