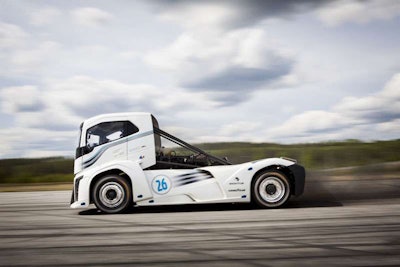 Volvo has claimed the title of world's fastest truck and, admittedly, it's odd but fun watching the 5-ton truck racing down a Swedish test track in a YouTube video posted today by the automaker.
It's odd because the cab-over style truck is not exactly the poster child for aerodynamic performance. However, despite its wall in the wind appearance, the dual-axle truck features aero devices, such as side skirts.
The custom built Iron Knight features a mid-mounted D13 engine with 2,400 horsepower and 4,425 lb.-ft. of torque which gets the tires squealing easily at the starting line.
Federation Internationale de l'Automobile (FIA) rules require two 1,000 meter runs within one hour. The average time for two of those runs in the Iron Knight was 21.29 seconds, which narrowly beat the prior world record of 21.596 set in 2012 in a special hybrid truck dubbed Mean Green.
"We're chasing it in the chopper and we can't even catch up with it," truck journalist Brian Weatherley reports in the video while attempting to keep up with Iron Knight in a helicopter.
Impressive stats are displayed towards the end of the 4-½ minute video, including the truck's time of reaching 100kmh (62mph) in 4.6 seconds. And how about its top speed? The truck can scream by at 172mph.
Though the Iron Knight has garnered plenty of attention, Volvo makes it clear that they want to share the limelight with the truck's transmission.
"This shows that our I-Shift Dual Clutch transmission has enormous potential and that it does not let you down under extreme conditions," says Claes Nilsson, president and CEO of Volvo Trucks. "The fact that the world record-breaker uses the very same gearbox that is found in our series-built FH trucks is something that we're really proud of."