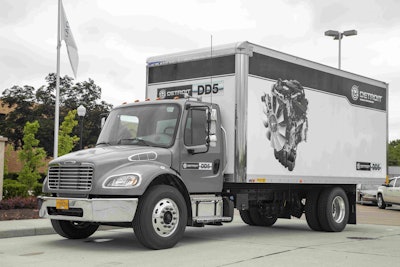 Daimler Trucks North America said Thursday it is set to begin production of Freightliner M2106 trucks equipped with the company's new inline four cylinder engine in October.
Announced earlier this year, the 5.1 liter DD5 will initially roll out to customers in pick-up and delivery applications before being made widely available in 2018.
The DD5 will first be offered in 210 HP-575 lb-ft and 230 HP-660 lb-ft ratings that will provide best in class fuel efficiency. The efficiency gains are just one of the dividends of the more than $375 million Daimler put into research and development of its medium duty products.
"It's a big commitment to bring an engine to this market," says Kary Schaefer, general manager, marketing and strategy, for Daimler Trucks North America.
While the DD5 is the newest Detroit engine on the market, Schaefer says it will feature best in class scheduled maintenance intervals before it ever hits the road. For short-haul applications, the DD5 will have extended oil and fuel filter change intervals up to 45,000 miles – upwards of three times that of competitive engines.
The DD5 development program, Schaefer says, was built on a European platform that since 2013 has produced more than 60,000 engines, but was totally redesigned to meet future U.S. emissions requirements.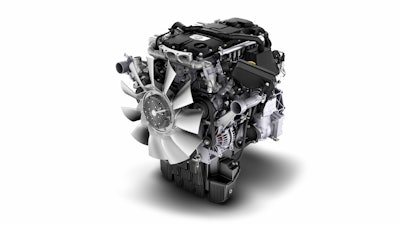 The engine has undergone extensive development and testing in the U.S. with 12 reliability test trucks racking up nearly 3 million miles, including three seasons of summer and winter tests. The DD5 emerged from the road test with an expected B10 life of 400,000 miles.
"What that means is that 10 percent of the engines will have a failure within 400,000 miles," she says. "If you look at our key competitors, none of the others are close to that."
Much of the engine's durability comes from the "clean sheet" design and engineering process that brought the powerplant to life. The engine was designed to provide component stiffness for low noise and vibration, while oil lubrication and coolant circuit designs also contribute to reduced friction.
A crank rod manufacturing process was used on piston connecting rods and crank and rod bearing journals were hardened. Cylinder heads feature a clamp load design for high firing pressures.
"We have optimized cylinder roundness to optimize firing," Schaefer adds.
A fixed geometry dual stage turbo with waste gate provides boost on demand.
"It provides for higher air flow, therefore an increase in power density," she adds.
Variable exhaust cam phasing (VCP) is used at low engine speeds to increase exhaust temperature, a first for the segment. Variable cam phasing technology, Schaefer says, provides Detroit the ability to optimize thermal management under low engine load conditions and improve the overall performance of the aftertreatment system.
"This will be a differentiator for our engine and our engine performance," Schaefer adds.
The engine itself features an advanced machining process and an advanced high-pressure common rail fuel system. Dual overhead cam, piston and cylinder head all support improved combustion for fuel efficiency and emissions compliance, Schaefer adds.
From a serviceability standpoint, Schaefer says the four cylinder design is shorter and provides better access for service, especially to the rear of the engine. Cartridge-style fuel and oil filters are mounted above the rail and the engine features a maintenance free crankcase breather. Bolt on accessories limited to 3 and 4 attachment points and the DD5 uses the same Detroit electronic platform as its heavy duty cousins.
The DD5 also features Detroit Connect Virtual Technician remote diagnostics system and the engine and aftertreatment system comes backed with a 3 year/250,000 mile warranty.
Plans for the full rollout year-after-next call for power take-off options as production of the DD5 shifts from Mannheim, Germany to its Detroit powertrain facility.
The DD5 has already been EPA certified to meet 2017 greenhouse gas and fuel efficiency standards as well as all on-board diagnostic and near-zero criteria pollutant standards. The DD5 engines can accept soon-t0-come CK-4 oils, but factory fill will be FA-4, adds Chris Moran, medium duty project manager.
Richard Howard, Senior Vice President, Sales & Marketing, Daimler Trucks North America, adds the DD5's entry into the market isn't designed to push other OEMs out of the Freightliner order book, adding the company prefers to give its customers options. But he noted a competitive environment brings differentiated products.
"[Powertrain integration] is a great opportunity to reposition our product in the medium duty market," he says.