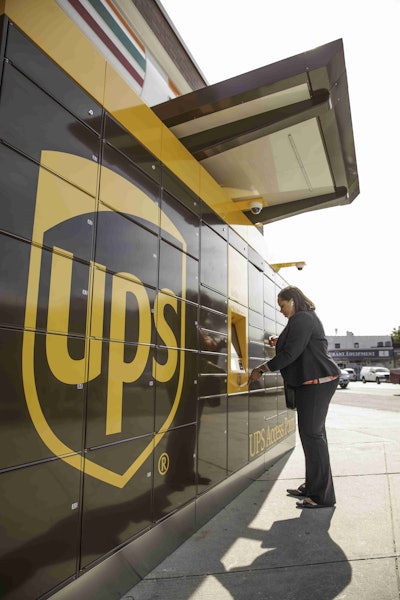 Delivery trucks frequently waste fuel and time attempting deliveries to addresses that aren't equipped to accept packages.
UPS came up with a solution to make deliveries easier with its smart locker program. The company's nine locker locations in Chicago have proven so successful that it's now expanding to 300 locations nationwide.
The UPS Access Point lockers are alternate delivery locations that are usually outside and accessible 24 hours a day at convenience stores and other locations.
Online retailers can integrate the locker delivery addresses into their web checkout process to give 'e-commerce stranded' consumers, who live in a residence where front-door delivery is not possible, a nearby delivery location.
"The increase in online shopping parallels the interest in alternate delivery locations," said Kalin Robinson, director of the UPS Access Point locker program.
"UPS Access Point lockers are one of the many ways that UPS is helping our customers offer consumers a great online shopping experience."
When unable to make a delivery at a consumer's residence, UPS drivers can leave a delivery notice indicating when and where the package will be available for pickup at their neighborhood UPS Access Point location. All that's needed to pick up the package at a UPS Access Point locker is the UPS InfoNotice alert or tracking number and a valid photo identification card. The process, outlined in a UPS instructional video, can take less time than a transaction at an ATM.
The lockers are an integrated part of UPS's portfolio of services for online and multichannel retailers. For example, UPS My Choice members can redirect their deliveries to a UPS Access Point locker, UPS Access Point retail location, or another alternate delivery location. UPS My Choice members who choose a UPS Access Point locker can also receive a barcode on their smartphone for even faster pickup.
UPS is working with 7-Eleven and independently owned and operated retailers to offer the locker program in select areas across the country. The staggered rollout began in June and initially will be available in Illinois, New York, Pennsylvania, Virginia and Washington State. Subsequent states are planned to include California, Florida, Georgia, Massachusetts, Missouri, New Hampshire, New Jersey and Texas.
According to the UPS Pulse of the Online Shopper study, more than half of avid online shoppers, who make two or more online purchases in a typical three-month time period, are interested in an alternate delivery location with extended hours. Preference for alternate delivery locations grew nine points (to 35 percent) in the last two years according to the UPS study.