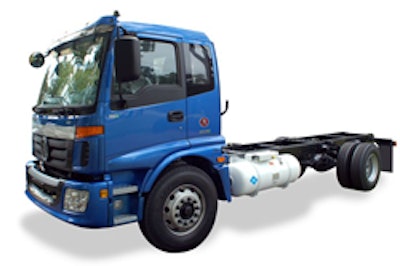 Alkane Truck Company says it will add gasoline as a fuel option in its class 7 truck line – an about face for a company that previously has been an exclusive proponent of alternative fuels, namely propane autogas and compressed natural gas (CNG).
""It makes sense to expand potential sales by broadening our audience to include traditional fuel types," says Alkane CEO Bob Smith. "Our primary mission will always be the promotion of clean burning fuels. Gasoline, when offered with high a percentage of Ethanol, comes pretty close to fitting those criteria."
[rr-story-promotion id="132562″ align="center"]
Certified to run on liquid propane, the Alkane Class 7 cabover cleared DOT compliance testing in the fall of 2015 with a PSI 8.8 liter V8 engine. The same engine is also certified to run on CNG or gasoline. With liquid propane or gasoline, the truck will produce the same horsepower and torque while yielding diesel-like performance, the company says.
"Since truckers and consumers are more familiar with conventional fuels, our hope is that our existing dealer base will readily adopt the gasoline version," adds Steve Rayborn, VP of Global Sales for Alkane. "Once they test the handling and performance of our trucks, and experience its power and torque, adding the propane version will be an easy decision."