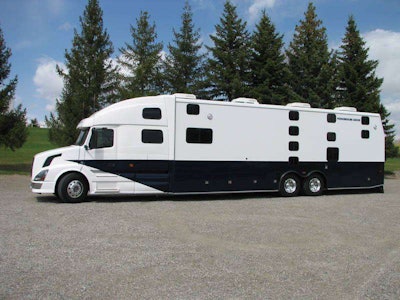 A transportation start-up in California that's using a Volvo bunk truck to make affordable round-trips from Los Angeles to San Francisco reports being overrun with reservations.
SleepBus reports on its website that it's planning to add 10 more vehicles to its fleet and hopes to have additional capacity available by mid-August. But in the meantime, they can't take anymore reservations for the $48 six-hour, sleep-filled ride from L.A. to San Francisco, or vice-versa.
"We launched SleepBus with a prototype bus in late April and the response from all of you has been incredible," a SleepBus representative writes on their website.
A SleepBus ride, whether getting underway in either L.A. or San Francisco, starts at 11 p.m. and ends the next morning at 6 a.m. in either one of the aforementioned cities. Passengers wishing to exercise the sleep-in option can get an additional three hours of bedtime and leave the truck by 9 a.m.
Amenities on the SleepBus include a privacy screen for each bed, personal power outlets, reading light, WiFi, fresh luxury sheets, coffee, tea, seating areas and a restroom. Tables are available for those that have work that just can't wait.
A SleepBus attendant is on board to help you get through the trip. Given normal traffic and weather conditions, the average ride lasts 6 to 6-1/2 hours.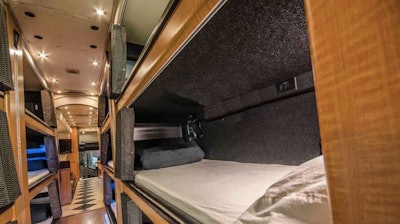 Passengers are allowed to bring up to three pieces of luggage for free. Room for bikes and other items is available. Children under age 10 can share a bunk for free with a parent.
SleepBus is currently working on a policy that will permit pets to make the journey too. The introductory fare rate of $48 will also be increased soon to $65 for a one-way trip, or $130 for a round-trip. The cheapest airfare for a non-stop, L.A./San Francisco roundtrip ticket on May 17 was selling for $256.20 through Virgin. The plane ride lasts one hour and 10 minutes.
Doug Stokes, president of Illinois Charter who rents a 24-bunk super sleeper with a Volvo cab similar to the one used by SleepBus, said that his company normally rents the vehicle for long trips, not daily commutes between major cities. He said he's curious to see how SleepBus fares in the long-haul with its commuter business.