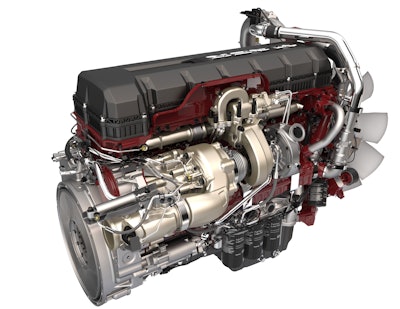 Mack Trucks today revealed the next step in the evolution of its integrated powertrain by introducing its 2017 Mack MP series engines, bringing improvements in fuel efficiency and power, while reducing greenhouse gas emissions.
Thanks to several upgrades and enhancements, the new engines boost fuel efficiency from 2.1 to 8.8 percent compared with prior model year engines.
Mack made the announcement on Earth Day during an event in Austin, Texas, which is consistently ranked among the "greenest" cities in the U.S.
"For more than 100 years, Mack has met the ever-changing needs of our customers' applications with powerful, reliable engines," said Dennis Slagle, president of Mack Trucks.
"The 2017 evolution of Mack power carries on our tradition of durability, while offering more power and incredible fuel efficiency gains."
Mack's 11-liter MP7 and 13-liter MP8 engines received a number of advancements for 2017, simplifying maintenance and improving efficiency and productivity. Both engines feature an updated wave piston design that raises the compression ratio and enables more complete combustion of fuel, while a common-rail fuel system more precisely injects fuel. Combined with a two-speed coolant pump, these features help increase MP7 fuel efficiency by up to 5.1 percent and MP8 fuel efficiency by up to 5 percent.
A number of additional improvements were made to both engines, including a new two-piece valve cover, shimless rockers and a low-pressure fuel system with an enhanced, integrated aftertreatment dosing module to reduce maintenance needs. An updated, double-walled EGR flow sensor helps reduce condensation and soot buildup in cold weather, while a new intake throttle enables a faster warmup when the engine is started.
"In addition to efficiency and maintenance improvements, we're also delivering more power," said Stu Russoli, Mack highway and powertrain products marketing manager. "With a new 425 horsepower rating, the 2017 MP7 offers 13-liter power in a lightweight, efficient 11-liter package ideal for weight sensitive applications."
For customers with long-haul applications, Mack will offer the 2017 MP8 engine with a turbo compounding system engineered to give customers a no-compromise increase in power and efficiency. Turbo compounding converts waste energy from the exhaust into mechanical energy that is fed back to the engine. The system adds up to 50 additional horsepower, enabling a substantial increase of fuel efficiency of up to 8.8 percent.
The Mack MP8 with turbo compounding is available exclusively with Mack's Super Econodyne downspeeding package. The additional power generated by the turbo compounding system allows the engine to maintain full torque as low as 900 rpm. This not only enables a broader operating range in top gear, but also allows a truck to hold top gear longer when overtaking a hill, even with falling engine rpm.
"With the current MP8, our Super Econodyne applications required a minimum top speed of around 63 miles per hour in order to stay in top gear," Russoli said. "Now, with turbo compounding, we can offer Super Econodyne and its fuel efficiency benefits to more customers."
The 16-liter Mack MP10 engine, the most powerful Mack engine offered, carries over unchanged. With up to 605 horsepower and 2,060 lb.-ft. of torque, the MP10 comes standard in the Titan by Mack model, the ideal choice for heavy-haul, severe-duty applications.
The updated 2017 Mack MP series engines complement Mack's recently launched Mack mDRIVE™ HD 13- and 14-speed automated manual transmissions. With up to two low-ratio creeper gears, the new mDRIVE HD variants provide improved startability for heavy loads, while maintaining proper gearing for fuel efficiency at speed.
"Customers hauling heavier GCWs, or working tough or loose terrain, can now gear their rear axle ratios faster in order to take advantage of fuel efficiency at highway speeds, while at the same time being able to use the tractive effort of the low transmission gears," Russoli said.
Several of the revised components and technologies found on Mack's 2017 MP series engines – including the patented wave piston, turbo compounding and the common rail fuel injection system – were derived from research and development work associated with the U.S. Department of Energy's SuperTruck program. The SuperTruck program, a cost-shared, public-private partnership, aims to help accelerate the research and development of advanced efficiency technologies to improve the freight-hauling efficiency of heavy-duty Class 8 long-haul tractor-trailer trucks.
The 2017 Mack MP8 will be available for order in April 2016, while the 2017 MP7 and MP10 engines will be available for order in July 2016. The Mack MP8 with turbo compounding will be available for order in October 2016.