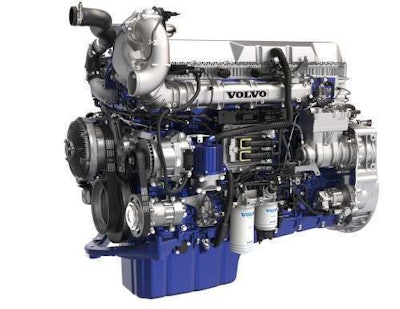 At its Hagerstown, Md. assembly plant Tuesday, Volvo Trucks North America introduced its model year 2017 Volvo engines, including enhancements to the Volvo D11 and D13 engines and the launch of the Volvo D13 with turbo compounding.
As a result of the improvements, Göran Nyberg, president of Volvo Trucks North America, calling the 2017 powerplants "the most fuel-efficient we've ever offered in North America," adds the company is delivering between 2.2 to 6.5 percent better fuel efficiency with the 2017 engines compared with prior-generation Volvo power.
The Volvo D13 with turbo compounding – a technology that recovers wasted exhaust heat and converts it to useable mechanical energy in the form of 50 additional horsepower that is transferred back into the engine – was designed for customers in long-haul applications. This results in up to a 6.5 percent improvement in fuel efficiency compared with previous engine models, says Nyberg.
"When you lower RPMs, you have a more efficient engine," says John Moore, Volvo product marketing manager – powertrain. "It's also less frictions because the pistons aren't moving up and down as much."
The turbo compounding D13 can also be spec'd with Volvo's XE powertrain packages or in super direct drive. The D13 with turbo compounding is available on an XE driveline with a 2.47 rear axle ratio.
Volvo's XE powertrain package with the D13 turbo compounding engine will be available to customers desiring to run in top gear in locations that have 55 mph speed limits. Through downspeeding, XE allows the engine to cruise at up to 300 rpm less than the average truck sold today. According to Nyberg, more than 27 percent of all Volvo models sold in 2015 featured an XE package.
Volvo also updated its 11-liter D11 and standard 13-liter D13, already two of the industry's most fuel-efficient engines. Wade Long, director of product marketing for Volvo Trucks North America, says the engines feature a proven common-rail fuel system for reduced engine and cab noise, providing drivers a more comfortable ride. The common-rail fuel system also contributes to fuel efficiency improvements through finer control of the fuel injection, allowing for quicker, more accurate injection and a more efficient way to control fuel pressure, Long adds.
An updated EGR flow sensor has a new double-wall casing that reduces condensation and soot buildup in cold weather, preventing downtime, Volvo says. A low-pressure fuel system features an improved aftertreatment dosing module that is integrated into the fuel filter housing for easier serviceability. Upgrades to the two-speed coolant pump for both engines also improve fuel efficiency as a result of reduced parasitic losses. The new intake throttle enables a faster warmup when the engine is started.
The 2017 Volvo D11 offers up to 425 horsepower and 1,550 lb.-ft. of torque, an increase of 20 horsepower. The engine also delivers up to a 2.2 percent fuel efficiency improvement compared with the previous D11 engine, Long says. Designed for regional, less than truckload (LTL) and pickup-and- delivery applications, the D11 is available in Volvo VN daycabs, VNM 430 and VNL 430 sleeper models, VAH and VHD models. D11 production is expected to begin in January of next year.
The 2017 Volvo D13 and D11 feature a new wave piston, which increases the compression ratio, Long says, from 16:1 to 17:1 and maximizes fuel efficiency. Improved flame propogation reduces soot, while also increasing cylinder efficiency.
"We don't have any wet spots on the side walls [of the cylinder], and that's where we reduce soot," says John Moore, Volvo product marketing manager – powertrain. "Soot basically is unburned fuel, so by reducing unburned fuel, we reduce soot."
The updated D13 – Volvo's most popular engine – is available in the Volvo VN, VHD and VAH models, and offers a fuel efficiency improvement of up to 2.5 percent compared to the previous D13. These engine enhancements were also included in the 2017 Volvo D13 with turbo compounding. Production on the D13 is expected to being October 2016.
Volvo's D16, which get no major updates, will begin production in January 2017.
Volvo closed 2015 with almost 93 percent of its trucks spec'd with Volvo power, Nyberg says.
New standard aftertreatment system
Volvo also introduced a new one-box exhaust aftertreatment system that combines the diesel particulate filter (DPF) with the selective catalytic reduction (SCR) and diesel exhaust fluid doser into a single unit. The system features a new copper- zeolite coating that improves low temperature NOx conversion for improved emissions.
Volvo engineer Ashraf Makki says the new design configuration results in better thermal performance for improved efficiency, smaller packaging requirements and an approximately 17-pound weight reduction compared with the two-box unit. There are also uptime considerations as Makki says the entire unit can be removed by loosening only six fasteners, and a swivel cover allows faster service to DPF without detaching the unit.
This provides additional frame rail space for added packaging flexibility. The new one-box system will be standard on the D11- and D13-equipped powertrains. The two-box solution will remain on the D16.
I-Shift updated including Crawler Gears
Also Tuesday, Volvo introduced its I-Shift with Crawler Gears automated manual transmission (AMT). Designed with crawler functionality and startability, Moore says I-Shift with Crawler Gears is ideal for applications requiring a slow speed and maneuverabilty – applications such as concrete mixers with curb-pouring capability, asphalt paving, spreaders, dump trucks, heavy haul and line painters. The I-Shift with Crawler Gears also ensures startability for heavy haul and up to 220,000 lbs. GCW or more with application approval.
I-Shift with Crawler Gears will be available in two versions:
14 forward gears, including one low crawler gear (19.38 gear ratio) and one ultra-low crawler gear (32.04 gear ratio), which can operate down to 0.6 mph with 3.58 rear axle ratio.
"We can do .6 miles per hour," Long adds. "That gives us extremely slow speeds and increased maneuverability."
13 forward gears, including one low crawler gear (17.54 ratio). Available as an overdrive in Volvo VHD, VNX, VNM and VNL models, the I-Shift with Crawler Gears can be spec'd with Volvo D11, D13 and D16 engines.
"We're going to bring fuel efficiency to the heavy haul market," Long adds.
All I-Shift models, which Nyberg says were spec'd in a company record 83 percent of Volvo-powered vehicles in 2015, received revised hardware for increased durability, including an upgraded countershaft for faster shifting and improved performance.
The Volvo I-See system, which works in tandem with the I-Shift transmission, launched in North America Tuesday. Long says, despite not needing a constant GPS feed, I-See is a new feature that learns the topography of the road, memorizes it and stores it in the transmission for use the next time the driver travels the routes. The system can store up to 4,500 different hills per truck.
The built-in electronics constantly monitor factors such as road grade, speed, weight and engine load to help maintain the most efficient gear possible. When the truck is operational, it automatically uses its knowledge to save fuel during the driving cycle. It optimizes gear shifting on rolling hills and hilly terrain. I-See handles hills by building speed before the hill, then curbs speed before the crest, Eco-Rolling down the hill and engine braking if necessary.
"The integration between the transmission and the engine is critical to getting the best performance and efficiency possible," Moore says. "Drivers are now going to get more power for less fuel spent."
The inclusion of the new I- Shift with Crawler Gears in the XE Adaptive Gearing package expands the capabilities of XE from 80,000 lbs. up to 110,000 lbs. GCW as the low gear ratios maintain startability and enhance slow speed performance on softer ground, Volvo says.
HWT Note: This article originally appeared in HWT's sister publication, Commercial Carrier Journal.