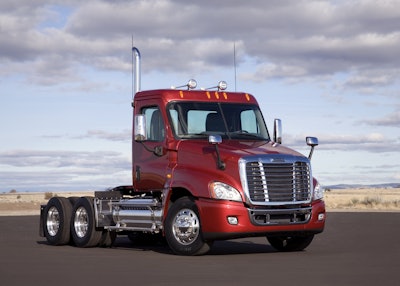 It was a big news day for Daimler in the U.S. and abroad as the automaker announced plans to expand its Oregon testing facility and invest over a half-billion dollars in European telematics.
Daimler Trucks North America (DTNA), a subsidiary of German-based Daimler, held a groundbreaking ceremony today for an $18 million upgrade at its research and development facility in Madras, Oregon.
The upgraded facility, which includes a new test track, will bring more than 30 new jobs to Madras, a small city with a population of about 6,500 located roughly 120 miles southeast of Portland.
"Daimler Trucks North America produces the best commercial vehicles on the road, and in order to continue that tradition, we must have the best research and testing facilities in the industry," says Dr. Wilfried Achenbach, senior vice president, engineering & technology, DTNA.
"DTNA has a long history of engineering excellence, which is made possible by state-of-the-art facilities like the one here in Madras. We look forward to completing this project and getting this facility up and running."
DTNA produces Class 6-8 vehicles under the Freightliner, Western Star, Thomas Built Buses and Freightliner Custom Chassis nameplates. These vehicles benefit from ongoing testing, research and development supported by the Madras facility.
The new facility at Madras will include a test track track and several buildings, though DTNA does not describe how those buildings will be used. The new test track is designed to allow engineers to simulate a typical vehicle's full service life, travelling over a variety of road surfaces, in less than six months.
The proximity of the Madras facility to DTNA's Portland headquarters enables engineers in the office and in the field to work more easily on projects together.
"What a great opportunity to have Daimler, a world-renowned and respected company, invest in the Madras community and the greater Jefferson County area," says Mayor Royce Embanks. "This is a partnership that is more than 40 years mature and the City of Madras is excited to see this relationship develop long into the future with the groundbreaking of this expansion project."
Construction of the facility will begin this winter and will be completed in early 2017. Kirby Nagelhout Construction out of Bend, Oregon has been selected as the general contractor in charge of the project. The buildings will combine for more than 31,000 square feet and the two test track loops will cover more than 16 acres.
In other news, Daimler Trucks in Europe announced that it will be investing $564 million in a new digital solutions & services division that will be using the company's FleetBoard telematics business to create new services for Mercedes-Benz commercial trucks, Reuters reports.
Daimler Trucks states that each of its trucks is equipped with 400 sensors that supply feedback on truck performance.
To help demonstrate its advancements in telematics, Daimler Trucks operated three WiFi-connected autonomously driving trucks today on the autobahn near Dusseldorf, Germany. The trucks operated in a platoon, demonstrating up to a 7 percent reduction in fuel consumption, according to Daimler Trucks, and taking up less room on the highway.
"For efficient logistics real time data are essential and our trucks supply these data. Therefore we are investing around half a billion euros by 2020 to connect our trucks with their environment and develop specific new applications," says Wolfgang Bernhard, chief executive of Daimler Trucks.
"This will enhance our customers' performance to operate their businesses safer and more environmentally friendly. FleetBoard and Detroit Connect will considerably help to leverage previously unharvested potential in road transport, both in the highly developed triad markets and in the emerging economies of Africa, Asia and Latin America."