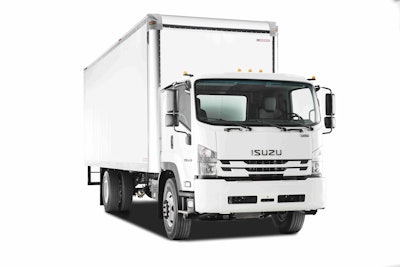 Isuzu Commercial Truck knows its niche so well that those that may balk at the 4-cylinder engine which powers its new class 6 truck really don't register that much of a concern.
Following the 2018 Isuzu FTR unveiling today at the Work Truck Show in Indiana, Brian Tabel, executive director of marketing at Isuzu Commercial Truck of America, was quick to defend the automaker's decision to power a medium duty truck with its proven 4HK1-TC 4-cylinder, 5.2-liter turbocharged diesel engine, a segment first.
"Some people may be concerned about that, but the point is that about 15 years ago, when you were going to buy a car, it was going to be a V6 or a V8. Odds are, if you were going to buy a car today, it's going to be either a four cylinder, or four cylinder turbo and then go up from there," he explained to Hard Working Trucks.
"Again, this is going to be one of those trucks that's going to lead that path. People don't necessarily need all that horsepower and torque, especially in an urban area where our truck sells very well. The maneuverability, the visibility of the truck is probably going to be one of the best in class, for sure."
For Shaun Skinner, executive vice president and general manager of Isuzu Commercial Truck of North America, the FTR's four cylinder engine is a matter of mandatory vehicle evolution.
"As fuel economy and emissions regulations become stricter, you're going to see more and more competitors in this class turning to four-cylinder engines. Isuzu is a pioneer in developing and building four-cylinder transportation solutions."
Confidence comes easily for Isuzu Truck. At the top of Isuzu's FTR press release, the company reminds readers that it's the "distributor of America's best-selling low cab forward trucks."
Customer feedback also comes easily for Tabel. He talked about a business owner who was frustrated with with his large walk-in van because he couldn't drive it down narrow alleys for twice daily bread deliveries.
With a medium-duty Isuzu truck, Tabel said he can.
"The other aspect he didn't think about was all the tickets he used to get parking in the street," Tabel said.
However, it's the low cost of ownership that plays higher with consumers than the notion of avoiding parking tickets.
"The low cost of ownership will be key," Tabel explained. "Because people look at that, along with visibility, and maneuverability, and it's probably going to be unsurpassed in that market."
Isuzu believes that urban areas will continue to grow, along with demand for their medium-duty trucks, which have proven popular in metros across the country.
The 2018 FTR features a dock-height stance which may make it even more popular than the company's other medium duty trucks.
Although horsepower and torque ratings have not been finalized, the company noted that the 4HK1 engine is well known for its high torque output. The powerplant will be mated to an Allison 2000 Series automatic transmission. The engine carries a B10 durability of 310,000 miles, meaning that 90 percent of engines should reach that mileage before requiring an overhaul.
An incredible cruising distance can be achieved by the FTR, owed to the 4HK1's reputation for fuel economy coupled with an optional aluminum 50 or 100-gallon fuel tank.
Eight wheelbase configurations will accommodate bodies from 16 feet to 30 feet, allowing for a wide variety of body applications.
A new back-of-cab design provides more space for body applications compared to the previous F-Series truck.
Like all Isuzu trucks, the FTR will feature a low-cab-forward design that increases visibility and maneuverability.
"With a 50-degree wheel cut, there's not a truck in this class with a tighter turning radius," Skinner said.
The FTR cab's wide step and wide-opening, 90-degree doors allow easy entry to a spacious interior, which features three-across seating and extra space for storage behind the seats. A no frills dash serves as a reminder of Isuzu's low cost of ownership goal.
When the center front seat is folded forward, a shallow storage console is revealed on the back of the seat which is accessed by lifting up the hinged lid.
Additional interior amenities include a side under safety mirror, overhead console, and a suspension driver's seat with armrest.
Pricing, available configurations, power ratings and additional features and specifications will be released in mid-2017 at around the same time when the truck will be available for purchase.
"The overall concept of the FTR is to bring to our customers the next generation medium-duty low-cab-forward truck, one that features a clean, durable, highly efficient four-cylinder engine and is the best Class 6 choice for pickup and delivery in cities," Skinner said. "The letters 'FTR' don't stand for 'future,' but this truck represents the future, and it will be here—soon."