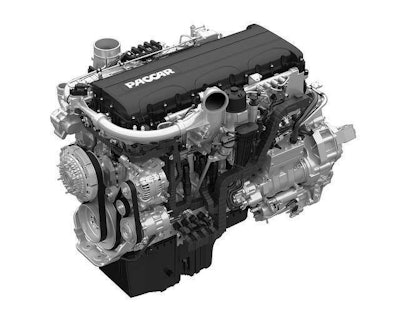 Kenworth says it will begin selling Paccer's new vocational engine after the first of the year.
The MX-11, the company's new 11-liter engine designed to produce up to 430 hp and 1,550 lb-ft of torque, is expected to be available for spec in January 2016.
The MX-11 engine will be available for the Kenworth T880, T680, T800 with FEPTO, and W900S and will be built at Paccar's engine plant in Columbus, Miss.
"The Paccar MX-11 fits a sweet spot for many of our customers, who need a lighter engine that provides ample horsepower and torque," says Jason Skoog, Kenworth assistant general manager. "It is 400 pounds lighter than 13-liter engines, and due to the weight savings, provides our customers a boost in payload capacity and fuel economy."
Skoog said the engine has logged significant testing hours throughout North America, with drivers noting the "engine has plenty of low-end power and it's a great match for applications requiring less than 450 hp."
The Paccar MX-11 is a six-cylinder, 24-valve design and has double overhead camshafts along with high-pressure common rail fuel injection. Like the MX-13, the engine block is constructed from compact graphite iron with vertical ribs to maximize strength while reducing noise levels.