Auto makers, now tuned in on rightsizing engine technology – more so than simply downsizing engines – are turning to turbochargers in increasing numbers.
Honeywell sees the evolving needs of auto makers driving not only turbo adoption globally to 47 percent by 2020, but an increasing appetite for turbo technology innovations that enhance a vehicle's overall powertrain system, reduce complexity and are tailored to local market needs.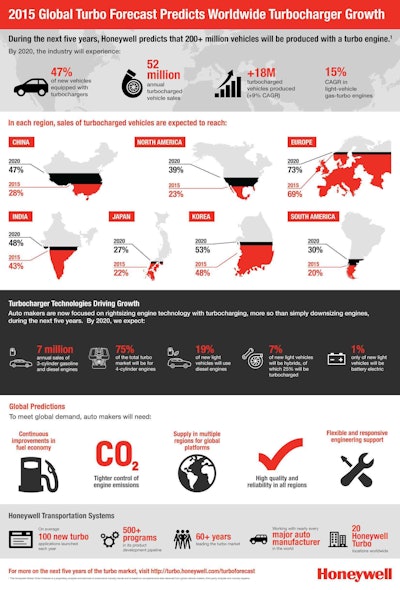 "It's no longer enough to simply downsize the engine and add a turbo," says Craig Balis, Honeywell Transportation Systems Chief Technology Officer. "Auto makers need solutions for dynamic conditions where the engine reacts instantly to driver inputs while still controlling fuel consumption and emissions."
Honeywell forecasts that multi-stage boosting for diesel engines will be a key innovation to help auto makers achieve greater engine performance, without breaching fuel economy regulations. Terrence Hahn, Honeywell Transportation Systems President and CEO, predicts by 2020 more than 2 million light new vehicles per year will be launched with multi-stage boosting systems.
Honeywell is preparing to launch the industry's first two-stage application with two variable geometry turbos combined in series for ultimate power density and response.
Globally, diesel engines will retain an important share of light vehicle sales at nearly 20 percent, due to their lower fuel consumption and CO2 emissions, the company says. Goaded by advanced clean diesel turbocharging and after-treatment technologies., Honeywell expects diesel penetration to double in North America to seven percent by 2020.