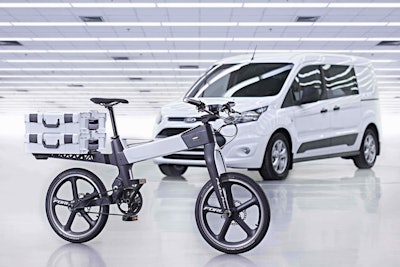 Being stuck in traffic can be one of the most frustrating and time consuming part of the day, and for vocational fleets it can be a serious waste of resources and money.
In an effort to keep things moving when the people in front of you are not, Ford Motor Company has developed a prototype electric bike that folds into the back of a Transit Connect van for use by couriers, electricians and delivery services.
With the e-bike on board, fleet drivers could park their Transit Connect on crowded city streets and ride the e-bike to their destinations. Alternatively, Ford says a driver/rider team could work together, with the driver dropping off one or more riders at a hub to make their deliveries via bike and then meeting up with them at the next stop, eliminating the need to search for parking. Up to three Ford e-bikes can be stored in a Transit Connect.
"There are so many ways to get around a city, but what is really needed is a way to connect all of these transport options together," says Ken Washington, vice president, Ford Research and Advanced Engineering. "Being able to seamlessly move between cars, buses, trains and e-bikes and react to changing traffic situations can make a big difference both for commuters and for those delivering goods, services and healthcare."
The MoDe:Pro e-bike is more than just a traffic buster. Ford is also using it to study how electric bicycles can work seamlessly with cars and public transport to help commuters and fleets operate more efficiently in urban areas. The e-bike is among 25 experiments Ford launched as part of Ford Smart Mobility, the company's global plan to help change the way the world moves through innovation in connectivity, mobility, autonomous vehicles, customer experience and big data.
The e-bike is equipped with a 200-watt motor with 9-amp-hour battery charges when docked in the vehicle and provides electric pedal assist for speeds of up nearly 16 mph. It also features a rear-facing ultrasonic sensor enables a rider alert system that warns the cyclist when a vehicle is passing by vibrating both handlebars, and alerts motorists of the presence of the e-bike by illuminating handlebar lights.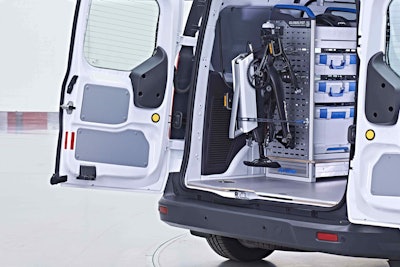 The prototype MoDe:Pro e-bike works with a prototype app called MoDe:Link that is compatible with the iPhone 6. Real-time information from the app enables the e-bikes to deliver:
• Navigation: Handle-bar grip vibrations let the rider know when to turn. Turn signals are triggered automatically for safety. The app can identify bike-friendly roads, hazards and alerts, and will be able to sense, and communicate with other vehicles
• Multimodal navigation and smart routing: Integrates journey planning with personal vehicle and public transportation networks, which can be filtered by cost, time, and amount of biking. Map includes weather, parking costs, and charging stations
• Speed and comfort: Electric pedal assist rate can be adjusted based on heart rate, "No Sweat" mode reduces the requirement to pedal, allowing riders to arrive fresh at their destination
• SYNC compatibility: While the e-bike is stowed and charging inside the vehicle, Ford's SYNC voice-activated connectivity system shows the app on the vehicle's display
After users input a destination, Ford says the MoDe:Link app lists possible routes and provides navigation, which could driving to a train station, taking an e-bike onto the train, then riding the bike from the train stop to the final destination. The app also updates the route as circumstances change.