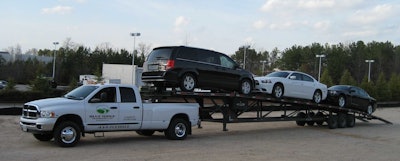 By Todd Dills
In trucking, the term "hotshot" commonly refers to either the truck or the freight – often both. In the former sense, it's normally a Class 3-5 truck used in combination with a variety of trailers to run for-hire freight, whether for a single customer or less-than-truckload, with multiple customers' freight making up the same load, though there are exceptions.
The truck often will be one of the big three U.S. auto manufacturers' ¾- to 1½-ton cab-and-chassis rigs or pickups outfitted for weight-distributing gooseneck- or fifth-wheel-type connections to a trailer.
Hotshot freight is hauled for a single customer and needed in expedited fashion. Jeff Ward of the Atlanta area says the local and regional loads he hauls with his one-truck Brady's Hotshot Hauling business are "true hotshot freight." That freight – power company equipment to keep the electrical grid running – is needed as soon as possible to avoid a shutdown.
Most agree the term originated in the Texas oilfields where, decades ago, pickups delivered quickly-needed parts to offroad drilling and pumping operations. The niche survives to this day and has benefited from the growth in U.S. fracking operations.
The advantage to utilizing smaller trucks for such freight for all hotshot customers is avoiding service downtime while minimizing costs. Fon Du Lac, Wis.-based hotshot owner-operator Greg Cutler says he can run his gas-fueled 2010 Dodge Ram 2500 at 85 cents per mile, much less than what the average Class 8 truck owner-operator will spend.
Joey Slaughter operated primarily as a car hauler when he started Blue Ridge Transport in 2010 after years as a Class 8 long-haul company driver.
Slaughter guesses he ran his own 2009 Ram 3500 at about 80 cents per mile, a good deal lower than the $1.20/mile average he later spent hauling cars in a Class 8. He transitioned earlier this year from an open car-hauling trailer to a 53-ft. step deck pulled by a Class 8 tractor. He brought in $1.35 a mile in revenue running hotshot, including deadhead.
While Slaughter says he's doing better today than the 55-cents-a-mile hotshot income, he views the hotshot route as having been ideal for him getting started. A self-described cautious type, Slaughter drove a gas tanker as a company driver for 12 years.
"I wanted to be my own boss," says Slaughter, who considered hauling cars, "but I was too cautious to go out and buy a large rig and go into a lot of debt." He bought a 2005 Dodge 3500 dually for $25,000 and found a new $7,000 Kaufman three-car wedge trailer, and he was in business.
"I didn't realize I'd be on the tightrope," he says, walking the line between federal regulations and earning income as an independent business.
"I just thought I'd be hauling cars, but the next thing I know, I had to get my [Department of Transportation] number, then the DOT officer's in my house auditing me as a New Entrant. I'm setting up a drug program, just like a regular trucking company with a Dodge dually and a three-car wedge. I asked [the New Entrant auditor], 'What's preventing me from going into business with a full-size tractor-trailer?' Nothing, he said – just sign up with IFTA, and you're off to the races."
The view from the other direction – seeing hotshot's low startup equipment costs relative to Class 8 –drives a great deal of interest from those driving Class 8 long-haul today. Butch Sarma, product manager of the Getloaded.com load board, says that every year at the Great American Trucking Show in Dallas, booth visitors show uncommon interest in oilfield work because of lower equipment costs.
"I could buy a new Ford 250 or 350 and a solid, well-built fifth-wheel or fixed-gooseneck trailer for $75 to $80K. That kind of money with a tractor-trailer will not get you a new model." Furthermore, a new Class 3 rig with a new trailer, says Sarma, "will have maintenance costs lower than those of an 18-wheeler that's five years old."
Establishing the business
When it comes to regulatory requirements, as Slaughter intimates, interstate hotshot businesses face many of the same regulations as those of interstate Class 8 haulers.
It's possible to lease your hotshot to a larger entity, particularly if you're in an area with a lot of oil drilling, but most hotshot businesses operate with their own motor carrier authority, requiring well less than $1,000 for federal and state filings at startup. The biggest initial cost, unless you're leased, is buying at least $750,000 worth of primary liability insurance coverage, a requirement to run interstate.
One-truck operators interviewed for this story reported a range of $4,000 to $5,500 for liability coverage.
Unless you're able to lease to a business, you'll need your U.S. Department of Transportation motor carrier authority and all that entails, including primary commercial auto liability insurance, membership in a drug and alcohol testing consortium, required driver qualification filings, adherence to hours of service regulations and the like.
Operators who remain plated under 26,001 pounds can avoid filing quarterly IFTA reports and purchase fuel according to the best pump price available. You'll need only to file via your BOC3 Process Agent in the states where you'll be doing business.
Like the IFTA requirement, a commercial driver's license is necessary for combination haulers using typical hotshot pickups only if the plated GCWR exceeds 26,000 pounds.
Search "Be your own boss" on OverdriveOnline.com for the HWT sister magazine's January 2014 guide to running an independent owner-operator business, including a guide to establishing authority and getting the business up and running.
Spec'ing the equipment
You won't get the biggest amount of payload from a standard tow hitch on the bumper.
The towing specs for the 2013 Dodge Ram 2500 pickups show that factory bumper-pull tow options limit you to a maximum of 17,950 lbs., and that's with both the short cab and bed and the biggest diesel available, the 6.7-liter Cummins. Ford's 2015 tow guide for its Super Duty pickups shows a limit of 19,000 lbs. towed, included the trailer's weight.
If your setup is like hotshot hauler Greg Cutler's, with a 20-ft. Doolittle bumper-pull trailer with a 2-foot dovetail at the rear, the trailer payload maximum will be under 9,000 lbs., as the trailer weights 9,100 lbs.
Spec to the load: You may not need all the pulling power that the big three auto manufacturers have to offer with their pickups.
Atlanta-based hotshot owner-operator Jeff Ward launched his business with a 2008-model F450 Super Duty dually, with maximum weight up to 35,000 lbs.
But he's since downsized to a 2012 F350 tagged at 26,000 lbs. GCWR, largely for fuel mileage: the 350′s more than 4 mpg better than the 450, which typically logged about 8 mpg.
The Cadet flatbed body on the unit Ward spec'd has a gooseneck-type hitch, similar to what was on his previous 450.
The majority of his moves are bulky enough to necessitate the 30-foot P.J. flatbed, but he feels the flatbed body delivers more versatility over a standard pickup bed, with more lateral space for freight.
Some of his more local loads are light enough – 3,000 pounds or less – to fit on the flatbed alone, which improves fuel mileage sometimes up to 18 mpg or more.
On the trailer, Ward's got 25 feet of wooden-deck space, with an additional five on the rear if he doesn't need the spring-loaded dovetail that pulls out into a set of ramps for the occasional piece of powered equipment he may haul.
The P.J. Trailer's tandem axles are outfitted with single tires at each axle end, saving weight, and each is rated at about 7,000 lbs. of potential capacity, more than he needs given his heaviest possible load today is just 10,000 lbs. He's tagged at a combined maximum weight of 26,000 lbs.
Part 2 of this article, which will publish next week, spotlights how hotshoting has worked for three operators.