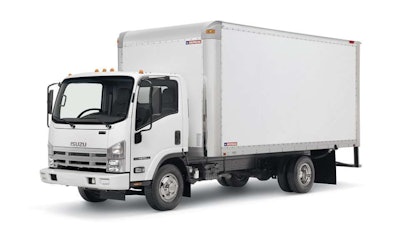 Isuzu Commercial Truck of America Inc. has a new lease program for select 2014 Isuzu NPR Eco-Max trucks outfitted with Morgan delivery van bodies.
The program offers customers a 48 month/35,000 mile per year closed-end iLease through Isuzu Finance of America Inc., for as little as $595 per month with only $1,190 due at lease signing on approved credit, according to the company.
"This could be the deal of a lifetime," says Shaun Skinner, executive vice president and general manager of Isuzu Commercial Truck of America. "At Isuzu, we already pride ourselves on offering an incredibly low cost of ownership. At only $595 per month for four years, these special edition trucks – already upfitted and ready to go – represent the lowest total cost of ownership for a Class 3 truck in the market today."
Each special edition truck begins with a 13,000-lb. GVWR 2014 Isuzu NPR Eco-Max Standard Cab equipped with air conditioning, a rear dome lamp and safety kit.
The Eco-Max is powered on an Isuzu 3.0-liter 4JJ1-TC turbocharged diesel engine, which produces 150 horsepower and 282 lbs.-ft. of torque, and is the brand's most fuel-efficient engine.
"Isuzu diesel engines carry a BIO durability rating, meaning that 90 percent of our engines should reach that mileage before requiring an overhaul," Skinner adds.
Fitted to each special edition NPR ECO-MAX is a standard size 16′ x 96″ x 85″ Morgan body with 51/2″-long sills so that a walk ramp or liftgate can be installed.
The completed weight of the unit is only 7,880 lbs., allowing for a payload allowance of 5,120 lbs.-over two tons.
Like all 2014 Isuzu diesel trucks, the special edition NPR ECO-MAX is covered by the Isuzu 24 Month/60,000 Mile Covered Maintenance Program. The program includes complimentary maintenance services at 4,000 miles, again at 10,000 miles, and continuing every 10,000 miles up to 24 months or 60,000 miles, whichever comes first, and a 50,000 mile service.