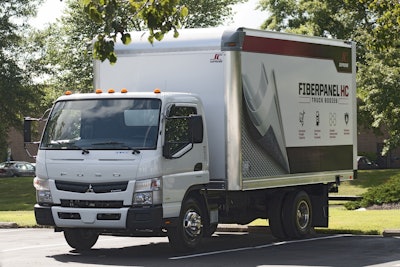 Mitsubishi Fuso Truck of America, Inc. (MFTA) has added a lightweight fiber panel to its 2015 Canter FE130 medium-duty work truck, giving the truck a 1,000 lb. payload advantage over 2014 models.
According to Supreme, the 14 feet-long FiberPanel (HC) HoneyComb body with composite rear rollup door weighs 288 lb. less than a 14 feet-long box made of standard fiberglass-reinforced plywood.
"We are always looking for ways to reduce cost-of-ownership for our FUSO owners. Our efficient frame design and use of lightweight structural technologies throughout the chassis help increase the Canter's payload compared to competitive trucks," Leighton Good, MFTA's manager, product and applications, says. "By adding this new Supreme FiberPanel (HC) HoneyComb body, we can boost payload capacity even more — allowing our customers to haul more per trip. And that helps them reduce their truck transport costs."
The FiberPanel (HC) HoneyComb body is available in 12, 14 and 16 feet lengths, with 96 inch width and interior heights of 85, 91 or 97 inches.