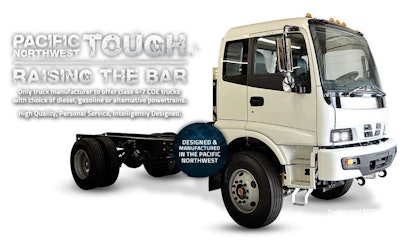 New components, parts and pieces enter the market practically every week, but it's not often a new OEM jumps into the fray.
Enter Gary Jones and his start-up, Rainier Truck & Chassis.
Jones, a 30-plus year veteran of truck and chassis design and engineering who serves as president of the company, has spent much of this year assembling a dealership network for his Yakima, Wash.-built Rainier cabover truck.
"We've gotten a lot of interest from former GM truck dealers and UD dealers," he says of two dealership groups whose products left the market.
Jones says dealers are intrigued by the truck's common platform, making it simple to service across all classes.
"Our game plan is to build a bullet proof reliable truck, that's a 'keep it simple stupid' work truck," he says. "Serviceability is everything. It's not a very complicated truck. It's old school."
A Cummins 6.7 turbocharged diesel engine comes standard on Rainier trucks and is equipped with onboard diagnostics (OBD), high- pressure common rail fuel injection system, VGT turbocharger and a diesel particulate filter. For 2015, the ISB 6.7L onboard diagnostics includes OBD-2 with more memory capacity.
All Rainier engine offerings are mated to Allison six speed automatic. The Cummins/Allison power train, Jones said, has also struck a chord with prospective dealers.
"Most of them already have the technicians to service Cummins and Allison," he says.
Jones said the company is on schedule to begin production in October and more than 2o dealers across 18 states have already been signed.
"We think we'd like to end at around 30 to 50 dealers but we're weighing that decision, now," he says adding the key to successfully growing Rainier's marketshare will be dictated by the consistency in which the company can build quality trucks.
"You've got to be able to deliver product to these guys and put your best foot forward," he says. "We say our niche is custom-built COE trucks, and we mean that. If we only do 1,000 trucks a year, then so be it. And I think we will attain that in the next 24 months after we ramp (production) up."
The company started sales June 16 with initial dealership orders. Each dealer in the initial wave of 20 ordered three trucks per their licensing agreement, and Jones says many of those units have already been sold.
"There's been a lot of interest in classes 4-6," Jones says. "And there's a lot of interest in gas engine, which we will launch next year."
Rainier offers PSI gasoline engines in all its trucks. Class 6 and 7 models can come with the 8.8-liter with 322hp or 475hp ratings with 600lb-ft of torque. Class 4 and 5 truck models can come with the 6-liter with 345hp and 373lb-ft of torque.
"We have a niche market," he says or the company's specialty of building custom spec'd trucks. "You can have anything you want as long as it's in white."