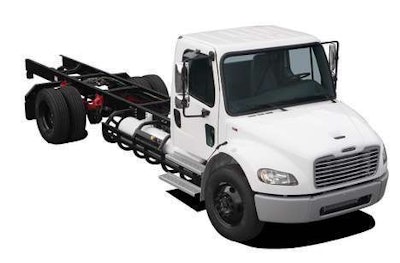 CleanFUEL USA has begun full production of two prominent products powered by its Liquid Propane Injection system, the Freightliner Custom Chassis S2G medium-duty truck and the Thomas Built C2 school bus.
The LPI propane autogas fuel system is technologically advanced, fully integrated and factory-installed, requiring no aftermarket modifications, for seamless integration and consistent quality, the company says. Both vehicles are EPA and CARB certified.
"We are ecstatic that the S2G and C2 are in full production, as demand is strong in the fleet industry for propane-powered solutions that meet these two vehicles' market needs," says Curtis Donaldson, founder and managing director of CleanFUEL USA. "With a significant order bank and ever-increasing customer interest, the potential for both products is huge."
The S2G truck pairs FCCC's popular S2 chassis with the only factory-installed propane autogas engine available to the medium-duty truck market. The FCCC S2G was designed with input from fleet managers and body manufacturers on component placement, PTO accessibility and electrical interfaces.
The Thomas Built Saf-T-Liner C2 school bus offers exceptional power and quiet operation, and is available with popular options like wheelchair lifts and air-conditioning. Today, one in three American children who ride a bus to school or an activity rides a Thomas.
Both products are powered by an 8-liter purpose-built engine by Powertrain Integration and an Allison 2300 automatic transmission with PTO provision, providing reliability and durability. The engine offers 495 ft-lbs of torque at 3100 rpm and 339 horsepower at 4100 rpm, and both are backed by warranties and service programs.
More information on the S2G can be found here and the C2 here.