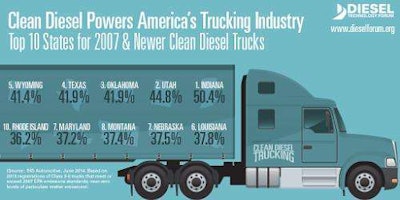 More than one-third of all medium- and heavy-duty commercial trucks registered in the United States – 2.9 million of 8.8 million trucks – are now equipped with newer technology clean diesel engines, according to new data compiled by HIS Automotive for the Diesel Technology Forum.
The new data includes total registration information on Class 3-8 trucks from 2007 through 2013 in all 50 states and the District of Columbia. Beginning in 2007, all heavy duty diesel trucks sold had to meet particulate emissions levels of no more than 0.01 grams per brake horse-power hour (g/HP-hr) – a level near zero.
"Because more than 95 percent of all heavy duty trucks are diesel-powered it is significant that more than one-third of these trucks are near zero emission vehicles," said Allen Schaeffer, the executive director of the Diesel Technology Forum. "Diesel trucks are literally the driving force behind goods movement in the U.S. and worldwide economies so the fact that the clean diesel fleet is increasing is good news for improved fuel efficiency and the environment. These new trucks are so clean that it now takes more than 60 of today's clean diesel trucks to equal the emissions from a single 1988 truck."
In December 2000, the Environmental Protection Agency adopted a rulemaking to establish stringent standards designed to reduce emissions from on-road heavy-duty trucks and buses by up to 95 percent and to cut the allowable levels of sulfur in diesel fuel by 97 percent.

Under the EPA's 2007/2010 heavy-duty engine and highway diesel fuel sulfur control requirements, beginning with the 2007 model year, 100 percent of the new on-road diesel trucks were required to meet the near zero particulate emissions standards and 50 percent were required to meet the lower NOx exhaust standards. Beginning with the 2010 model year, 100 percent of the new on-road heavy-duty diesel engines were required to meet the NOx exhaust standards.
"Emissions from today's diesel trucks and buses are near zero thanks to more efficient engines, more effective emissions control technology and the nationwide availability of ultra-low sulfur diesel fuel," says Schaeffer. "In addition, model year 2010 and later trucks are experiencing an average of three to five percent improvement in fuel economy. Additional fuel-saving strategies are being developed to improve engine efficiency, vehicle aerodynamics and expanded application of hybrid technology."